Stockholm, Sweden —(Map)
The world's most famous "school striker", Greta Thunberg, has held her last school strike for the climate. Ms. Thunberg, who's 20, graduated from high school last Friday. She says she'll continue to fight for climate action, she just won't be skipping school anymore.
In 2018, at age 15, Swedish student Greta Thunberg began the climate strike movement. She wasn't planning to start a global movement. She was simply protesting her government's lack of action on global warming by skipping school to sit outside Parliament.
She knew she would be breaking the law. In Sweden, students under the age of 16 must go to school. But she thought climate change was more important. "We can't save the world by playing by the rules," she says. "The rules have to be changed."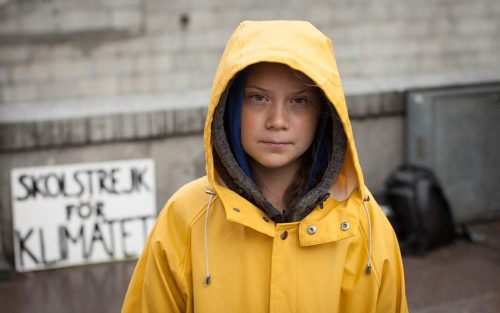 So every Friday, she skipped school to sit outside Parliament, holding a sign that said, "School Strike for Climate". People, including politicians, began to stop by and talk with her. Others came to protest with her. Reporters stopped by to ask questions about her strike. Word began to spread.
Ms. Thunberg's protests began to get more and more attention. Soon people were organizing similar protests around the world. The strikes are usually held on Fridays, which the protesters call "Fridays for Future".
Huge climate strikes have now been held in countries worldwide. In September of 2019, 4 million people in cities and towns around the world took part in the largest global climate strike ever. Most of the protesters have been young people, worried because climate change will affect them much more than adults.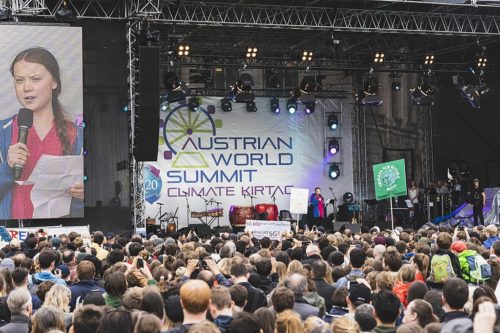 Ms. Thunberg learned about global warming when she was still young. "I grasped [understood] the issue of climate change when I was 12 and decided to never fly again, nor eat meat," she said. (Airplane pollution and raising animals for meat both make climate change worse.) She taught her family about climate change, too. Her mother, a famous opera singer, gave up flying between countries.
Ms. Thunberg has become an important voice in the climate crisis movement. She has been asked to speak at many important meetings, where she has often scolded world leaders for not taking stronger action. In 2019, Ms. Thunberg took the entire year off from school, spending her time on climate action instead. She crossed the Atlantic by sailboat so she could get to important climate meetings without flying.
Since she began striking, Ms. Thunberg has written three books. She has won many awards, including a €1 million prize. (She gave the money away.) She's even been named Time Magazine's Person of the Year.
School strike week 251. Today, I graduate from school, which means I'll no longer be able to school strike for the climate. This is then the last school strike for me, so I guess I have to write something on this day.
Thread🧵 pic.twitter.com/KX8hHFDyNG

— Greta Thunberg (@GretaThunberg) June 9, 2023
Ms. Thunberg strongly believes "We are still moving in the wrong direction." She says many young people "wonder what kind of future it is that we are stepping into, even though we did not cause this crisis."
Her days of school strikes may be over, but Ms. Thunberg definitely plans to keep fighting. "We simply have no other option than to do everything we possibly can," she says. "The fight has only just begun."
---
Did You Know…?
Ms. Thunberg's School Strike for Climate lasted 251 weeks – just about five years.
😕
This map has not been loaded because of your cookie choices. To view the content, you can accept 'Non-necessary' cookies.