The coronavirus pandemic has led to an explosion of interest in bikes and biking. Bike stores are struggling to keep up with the demand, while cities are working hard to create new places to cycle.
Interest in bike riding is so high that bike stores around the world are running out of bikes. In the United States (US), bike sales have seen their biggest jump since the 1970s. Sales of adult bikes in April of this year were three times as high as last year. The situation is similar in Asia and Europe.
The fact that bike stores weren't expecting this level of interest is one part of the problem. But the coronavirus helped cause the shortage.
Around 90% of the bikes sold in the US are made in China. But because of the coronavirus, Chinese factories were closed for several months, which meant that even the normal supply of bicycles wasn't being created. It's likely to take several months for supplies from factories to begin to catch up with demand.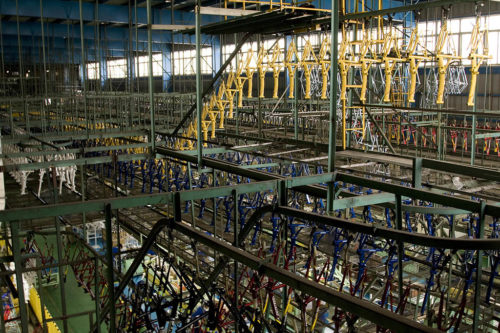 That demand began to go up in mid-March, as people began looking for ways of getting around that didn't involve crowded public transportation. Because biking happens in the open air, and the chance of catching the coronavirus while riding is very low, biking is seen as a safe way to travel.
In many places, governments are encouraging bike use. In Italy, for example, the government is offering up to $575 to people buying new bikes, while France will chip in $55 to help riders with bike repair costs.
Biking has also grown more popular because it's one of the few forms of exercise allowed in many lockdowns. With gyms and fitness centers shut down, biking fills a need for many active people.
Families appreciate biking, too. With schools closed, and kids unable to hang out with their friends, biking is a welcome activity. For many people, that's the main point – biking is fun.
But bikes are also practical. Experts say that for people in some cities, roughly 60% of their trips can be made by bike. Many cities are seeing this as an opportunity to make their streets safer and greener. Cities around the world are adding miles and miles of bike lanes to their streets to encourage biking.
New York says it will close off up to 100 miles (160 kilometers) of roads so they can be used by bikers and walkers. Oakland, California plans to close 74 miles (120 kilometers) to traffic – that's almost 10% of the streets in the city.
Paris has set up over 400 miles (650 kilometers) of new bike lanes. The United Kingdom plans to double its number of bike lanes. Cars and trucks have been banned from 75 miles (121 kilometers) of streets in Bogota, Colombia. In Milan, Italy, 22 miles (35 kilometers) of roads have been converted.
Though many of these bike lane additions are temporary, if changes in biking habits become permanent, they could seriously cut down car traffic and help make cities a lot greener.