On Friday, the World Health Organization (WHO) announced that the coronavirus pandemic is not a global emergency anymore. The disease is now spreading much more slowly than before. The WHO says Covid-19 is still a problem, but the hardest part of the pandemic is over.
The WHO and health experts have been tracking the progress of the virus closely. After health experts told WHO leader Tedros Adhanom Ghebreyesus that Covid-19 wasn't a global emergency anymore, Dr. Tedros agreed. "It is with great hope that I declare Covid-19 over as a global health emergency," he said.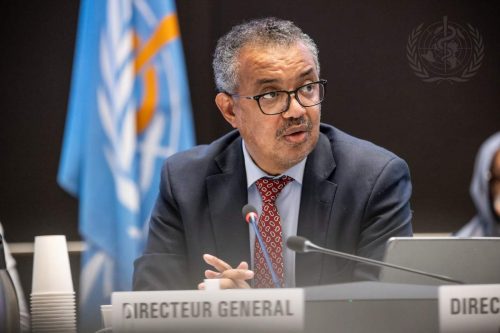 The decision won't change much for most people. A "global emergency" is the WHO's way of telling world leaders that there is a big problem. It helps countries work together to fight a disease.
On January 30, 2020, the WHO declared the coronavirus a global emergency. That was over three years ago. At the time, China was the only country to have been hit badly. The WHO didn't even have an official name for the disease yet. But they knew it was dangerous, could spread easily, and was likely to become a worldwide problem.
They were right. The disease caused terrible problems in countries around the world. Officially, over 765 million people have gotten the disease, and nearly 7 million have died from it. Experts believe the true numbers of cases and deaths are actually far higher.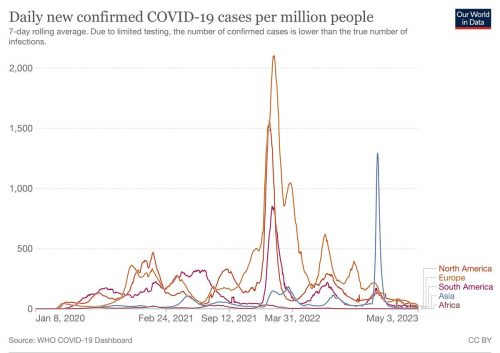 But over the last year, the disease has been spreading more slowly. Many more people are now immune to Covid-19, either because they have been vaccinated, or because they've gotten the disease. It's much harder for Covid-19 to spread when so many people are immune.
Scientists and doctors have also learned a lot about the disease. That means the effects are likely to be less serious for most people who get it.
A number of countries, like the United States and the United Kingdom (UK), have already removed most of the special rules they were using to help control Covid-19.
Dr. Maria Van Kerkhove, who leads the Covid-19 group at the WHO, says, "The emergency phase is over, but Covid is not." There is still a pandemic, and it's still dangerous. Over 17,000 people died from the coronavirus in April alone. Some parts of the world are currently seeing a sharp rise in cases.
😕
This image has not been loaded because of your cookie choices. To view the content, you can accept 'Non-necessary' cookies.
But the problem is no longer as serious as it was before. The WHO says it's time for countries to start managing Covid-19 like they do other diseases, such as the flu. Covid-19 is now expected to stick around, year after year. From time to time there are likely to be new variants, which could increase the number of cases and deaths.
Experts say vaccinations will continue to be important. And people still need to be thoughtful and careful. Those who are feeling sick should take steps to avoid passing the disease on to others. Simon Clarke, who works at the University of Reading in the UK, warns, "If you're fit [healthy] and young, Covid can still be nasty. And if you're old and frail [weak], it can kill you."
---
Did You Know…?
The United States will officially end its own national Covid-19 health emergency this Thursday.