Tokyo, Japan —(Map)
Movies about the future often show people zipping around in flying cars. Last week, that vision came a step closer to reality for a Japanese company, as it showed off its flying car in action – complete with driver.
Last Tuesday, a company called SkyDrive gave a demonstration of its new flying car, the SD-03. The small car flew around for four minutes, staying about 3 to 6 feet (1 to 2 meters) off the ground.
The SD-03 is powered by batteries and has 8 motors, which lift it straight off the ground. Since flying cars don't use runways, they need to be able to take off and land by going straight up or down.
What made this test flight special was that a pilot was on board. Tomohiro Fukuzawa, who leads SkyDrive, said, "Of the world's more than 100 flying car projects, only a handful has succeeded with a person on board."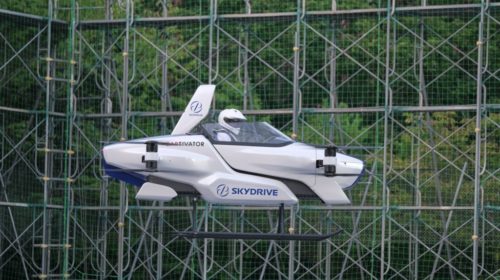 Many groups around the world are working to develop flying cars. That includes airplane makers like Airbus and Boeing, car makers like Toyota, Hyundai, and Porsche, and ride services like Uber.
Some governments, including Japan's, are supporting the idea, hoping that in the future, flying cars will be useful for short trips like taxi rides in cities. Flying cars could also save time in emergencies, and help reach places that can't be reached by road.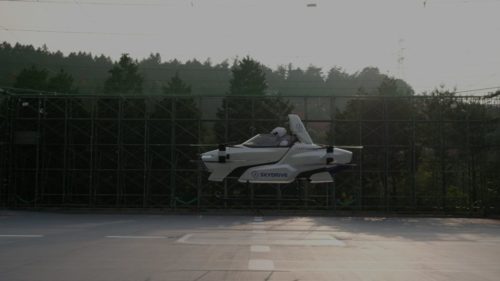 There are many challenges in the way.
Controlling a flying car is so complicated that most people won't be able to do it. Even last Tuesday's test flight was kept stable by an automatic computer system, and a backup team stood ready to control the car from the ground.
Safety is a major problem. What happens when a motor fails? If flying cars are crossing a city, an accident could hurt not just the people in the car, but people on the ground, too. That's one reason the SD-03 has eight motors – as backups.
Some people believe flying cars will reduce traffic jams, saving lots of time. But new systems will be needed to help control traffic in the air. With lots of cars flying around, these systems would be too complicated to be managed in real time by humans.
Flying cars also use a lot of energy – less than helicopters, but more than cars, or even airplanes carrying many people. Still, since most flying cars being developed are electric, they should pollute less than gas-burning cars – if they're charged with electricity from renewable sources.
Finally, flying cars are very expensive. When it's ready, SkyDrive's flying car is expected to sell for between $300,000 and $500,000.
But people who believe in flying cars point out that cars and airplanes faced lots of challenges at first, too. With time, many of the big problems were solved.
Mr. Fukuzawa wants SkyDrive to be able to fly two passengers on trips of up to 3 miles (5 kilometers) by 2023. By 2050, he hopes people will be able to fly anywhere inside Tokyo in just 10 minutes. "I think flying cars will become normal in the near future," he says.
---
Did You Know…?
So far, one of the most successful flying car companies is the Chinese company EHang. EHang has created two different flying cars which have been approved for some purposes in China and are being tested in other parts of the world, too.