Yoshihide Suga Takes Over as Japan's Prime Minister
Yoshihide Suga took over as Prime Minister of Japan on Wednesday. Mr. Suga was elected to the position by Japan's Parliament after ex-Prime Minister Shinzo Abe stepped down because of health problems.
Mr. Suga, 71, worked closely with Mr. Abe for years, and is expected to work toward many of the same goals. More than half of the people in Mr. Suga's new cabinet were also in Mr. Abe's cabinet.
One of the big challenges for Mr. Suga will be working to improve the situation for businesses and workers in Japan. The coronavirus has had a terrible effect on businesses in Japan, and many are struggling to survive.
Mr. Suga will also have to deal with growing problems with China and North Korea. Japan's relationship with both countries has become much more tense in recent years.
Mr. Suga – a farmer's son, and a quiet man – may seem like an unlikely leader. But with his years of political experience he was chosen as prime minister fairly easily.
Mr. Suga must call a new election sometime in the next year. It's not clear when he might do that.
UAE, Bahrain Sign Historic Agreements with Israel
Israel signed historic agreements with Bahrain and the United Arab Emirates (UAE) at the White House on Tuesday. The agreements mark a big change in the way Israel is treated in the Middle East.
Since 1948, Israel has been surrounded by Arab countries which dislike it being there. The Arab countries are upset about Israel taking land from Palestinians (the people of Palestine). Many countries agreed that they wouldn't recognize Israel as a country until the Palestinians gained independence.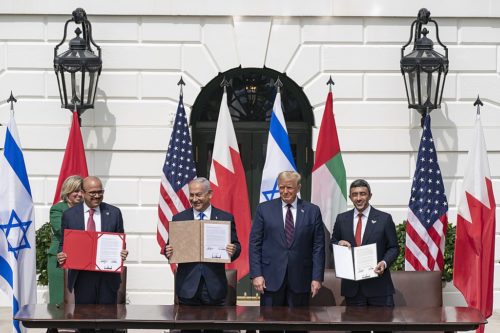 Now the UAE and Bahrain have agreed to "normalize" relations with Israel. The countries will exchange ambassadors and work to develop other ties.
Though some of the agreements are being called "peace agreements", none of the countries were at war. Still, the agreements will allow the countries to openly do business together – something they were doing in a more secret way before.
The big losers from the new agreements are the Palestinians, who feel like their concerns have been ignored.(Source: .)
Naomi Osaka Wins US Open
Naomi Osaka won her second US Open tennis tournament last Sunday. The 22-year-old fought her way back to win the final match after losing the first set to Victoria Azarenka of Belarus. Ms. Osaka is the first person in 26 years to win the US Open final after losing the first set.
Ms. Osaka, who plays for Japan, first won the US Open in 2018. She became the world's Number 1 female player when she followed that win with another in the 2019 Australian Open. But after that, Ms. Osaka seemed to struggle for a while.
In recent months, Ms. Osaka has been active in protests against racism. She continued that effort during the US Open, wearing masks with the names of victims of police violence.
The protests seem to have given Ms. Osaka a way to focus her energy. On her way to the US Open final, she pushed through several long, hard matches, before winning the final one 1-6, 6-3, 6-3.