Bethesda, Maryland —(Map)
US President Donald Trump was taken to the hospital Friday with the coronavirus. Several people close to the president have also gotten the virus. The news, coming less than a month before the US election for president, has caused great uncertainty and worry.
Very early Friday morning, the president and his wife were reported to have the coronavirus. Some reports have suggested that Mr. Trump may have had the virus before that.
On Friday, after Mr. Trump had a high fever and low levels of oxygen in his blood, he was taken to the hospital.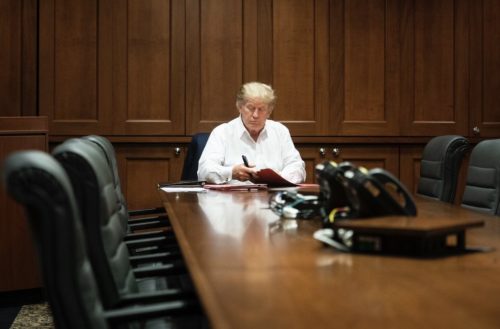 Officially, Mr. Trump is reported to be "doing really well". His doctors say he could be released from the hospital on Monday. But it usually takes seven to 10 days to know whether someone is going to have a strong reaction to the virus.
Some reports suggest that Mr. Trump's situation is more serious. Many health experts point out that the medicines and treatments Mr. Trump is getting are usually only given to patients with more serious signs of illness.
It's not clear how Mr. Trump caught the coronavirus, but it could have happened on September 26 when Mr. Trump announced he was nominating Amy Coney Barrett for the supreme court.
Few people wore masks at the event, even though Washington DC requires masks when people are outside. Since then, many US lawmakers, and members of Mr. Trump's team and family have gotten the coronavirus.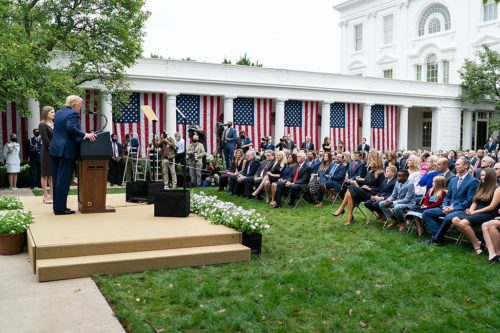 For many people, it's not surprising that Mr. Trump and those around him have gotten the virus. Mr. Trump has long acted like the coronavirus isn't a serious concern. Mr. Trump has avoided wearing masks and made fun of people who wear them.
During the debate last Tuesday, members of Mr. Trump's family didn't wear masks, even though the rules required masks for everyone who wasn't taking part in the debate.
There are concerns that the virus could have been spread to ex-Vice President Biden or others at the event. So far, Mr. Biden doesn't appear to have the virus.
Like many other leaders from around the world, Mr. Biden wished Mr. Trump and his wife a speedy recovery. He pointed out that the president's illness is a "reminder to all of us that we have to take this virus seriously."
Many efforts are now taking place to try to track down all of the people who may have been exposed to the virus as a result of Mr. Trump and his campaign workers traveling around the US last week.
This is the first time since 1981 that the acting president of the US has faced a life-threatening situation. Many people are concerned about what might happen if Mr. Trump's condition gets worse.
For now, most of Mr. Trump's events have been canceled. Vice-President Mike Pence is handling some of the other events. So far, Mr. Trump hasn't asked Mr. Pence to take over for him.
It's not yet clear how the illness will affect Mr. Trump's campaign for president. It's possible that future debates with Mr. Biden may need to be delayed or canceled.
---
Did You Know…?
The coronavirus may also affect Mr. Trump's nomination of Judge Barrett for supreme court – something Republicans are eager to push through quickly while Mr. Trump is still in office. At least three Republican senators have also gotten the virus.
Republicans say that, for safety reasons, they want to stop all Senate business – except for considering Judge Barrett.
---
UPDATE: Mr. Trump was released from the hospital on Monday, October 5. He returned to the White House to recover more fully there.