Over the last two days, debates took place for the leadership of two different countries on opposite sides of the world – the United States and New Zealand. The results of the debates were extremely different.
United States Presidential Debate – the Worst Ever?
A debate is a discussion between candidates, where each is asked questions and given a chance to present their ideas. At least that's the idea.
But Tuesday night's debate between President Donald Trump (Republican) and Ex-Vice President Joe Biden (Democrat) was almost closer to a yelling match than a debate. The night was marked by interruptions and insults.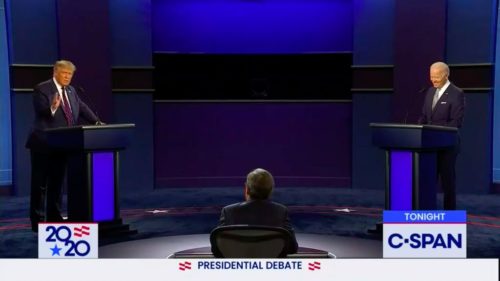 Though both men talked over each other at times, Mr. Trump interrupted far more all through the debate. Several times he even talked over the moderator, Chris Wallace.
Mr. Biden argued that Mr. Trump's poor leadership during the coronavirus pandemic had led to over 200,000 deaths. Mr. Trump said he had kept America safe and tried to protect businesses.
The two disagreed on racism, with Mr. Trump saying that it was wrong to say that America was racist. Mr. Biden said it was important to understand people of different backgrounds.
One striking moment was about "white supremacist" groups which are causing violence that Mr. Trump seems to be encouraging.
Mr. Wallace asked Mr. Trump if he would condemn these groups and tell them to "Stand down." Instead, Mr. Trump told them to "Stand back and stand by." It was almost as if he were telling them to get ready for action.
The two also disagreed about the climate crisis. Mr. Biden said strong action was needed, and that this action would create jobs. Mr. Trump said it was important to keep gas prices low, but that he wants clean water and clean air.
Political experts from all sides agreed that the debate was one of the worst ever. The group organizing the debates says it will make new rules before the next debate to make sure the same thing doesn't happen again.
New Zealand's Second Leaders' Debate – an Actual Debate
On Wednesday night, New Zealand Prime Minister Jacinda Ardern (Labour Party) met with Judith Collins (National Party) for their second debate.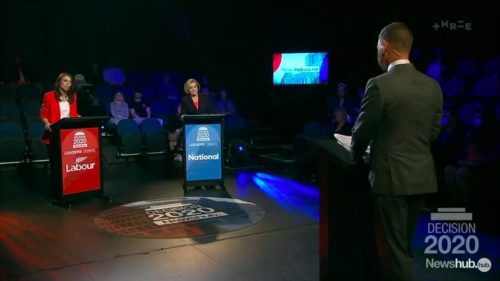 The debate was moderated by Patrick Gower, who had much better success at controlling the discussion. He started off with questions about the coronavirus.
Ms. Ardern pointed out that her decisions about coronavirus limits would be based on her real-life experience leading the country during the pandemic – something she's gotten high marks for.
Ms. Collins pointed out that larger lockdowns are hard on businesses. She hopes to open things up more, as long as people are safe. Both candidates want to open the country for travel to and from Australia, but disagreed on the conditions and the timing of such a decision.
The biggest conflict of the night came when discussing the climate crisis. Ms. Ardern said the climate crisis was an emergency and she pressed Ms. Collins for her plan. Ms. Collins was in favor of climate action as long as it didn't hurt business for New Zealand's farmers.
---
Future Debates:
• US Vice-Presidential debate: October 7
• US Second Presidential debate: October 15
• US Final Presidential debate: October 22
• New Zealand Final Leaders' debate: October 15
* This article has been edited to correct the date of the New Zealand debate.