Strong cyclones in both the Pacific and Atlantic Ocean have continued to pound countries on both sides of the planet. The Philippines is struggling to recover from Typhoon Goni, and several countries in Central America have been hit by Hurricane Eta.
"Hurricane" and "typhoon" are two different names given to the same kind of storm, a cyclone. Cyclones are strong storms with fast, spinning winds that form over oceans. Whether a storm is called a hurricane or typhoon depends on where the storm starts.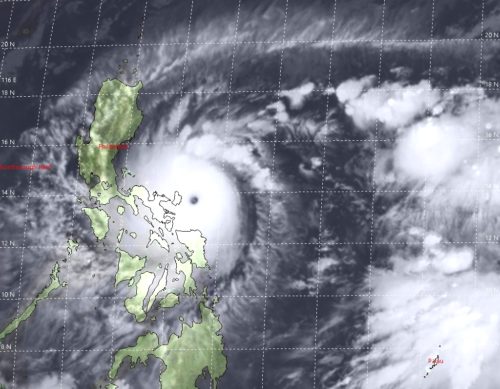 Typhoon Goni
On October 31, Super Typhoon Goni made landfall at Catanduanes island in the Philippines. It was the strongest cyclone anywhere in all of 2020, with winds as fast as 195 mph (315 kph).
The typhoon – known as Super Typhoon Rolly in the Philippines – had an incredible impact on the island, destroying at least 25,000 homes and taking out 80% of the power lines. It could take weeks or even months to restore power to all areas.
Around 350,000 people were evacuated from the storm's path, but Goni still injured 69 people and killed at least 20. Most injuries were on Catanduanes. The typhoon missed the country's capital, Manila, but took out power in 125 other cities and towns.
While the Philippines is struggling to recover from Typhoon Goni, the country is already preparing for the next typhoon, Atsani, which could hit the island nation on Thursday.
Hurricane Eta
On Tuesday, Hurricane Eta, the 28th named storm of the 2020 Atlantic hurricane season, made landfall at Puerto Cabezas, Nicaragua. Eta – a Category 4 hurricane – is the most powerful cyclone of the 2020 Atlantic hurricane season, with winds as fast as 150 mph (240 kph).
The storm has had a terrible effect in Puerto Cabezas, where most people live in simple wooden houses. Around 20,000 people in the area had gone to emergency shelters when the storm hit.
The area had been without power for two days before Eta made landfall. Now, even more power lines are down, as trees have been toppled and roofs have been blown off across the region.
Flooding has made the area hard to reach, as local rivers have overflowed. In all, Eta is expected to drop 25 inches (63.5 centimeters) or more of rain in Nicaragua.
The storm has also dropped large amounts of rain on Honduras and Costa Rica, causing flooding and landslides. At least three people have died.
Eta has now weakened and is now labeled a tropical storm. It is still moving slowly through Central America, but is expected to head northeast, toward Cuba and Florida.