Joe Biden Wins US Election For President
On Saturday, four long days after the US election for president, the country finally learned who won. Joe Biden has been elected the 46th president of the US. His running mate, Kamala Harris, will become the first woman and the first woman of color to serve as vice president.
The counting this year was long and drawn out. That's mainly because so many people took part in early voting or voted by mail. These votes arrived early, but in some states, rules made it impossible to count them before election day.
On Tuesday night, Mr. Biden had a strong lead, but 6 states were still too close to call. On Saturday, Mr. Biden won the state of Pennsylvania, giving him 279 electoral college votes – more than the 270 he needed to win.
Mr. Biden said, "It's time for America to unite. And to heal."
NewsForKids.net will have a more detailed report on the US election tomorrow.
Ethiopia Attacks Its Own Tigray State
Ethiopia's government has launched a military attack against Tigray, the country's most northern state. The government says the attack is in response to Tigray's army attacking an Ethiopian army base.
Ethiopia's airplanes are reported to have bombed Tigray. It's hard to know exactly what is happening because the internet has been turned off in the area. Ethiopia's government has declared a six-month state of emergency in Tigray.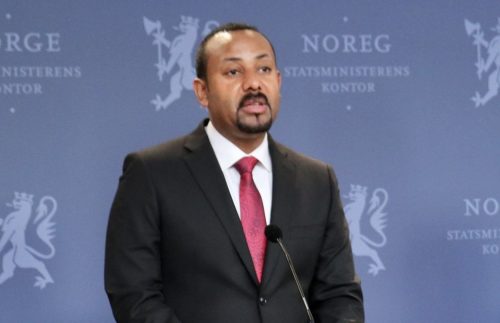 The relationship between Tigray and Ethiopia's government has gotten far worse recently. Ethiopia is made up of many different "ethnic groups" – people with different histories and backgrounds.
The people in Tigray are mainly from the Tigray ethnic group. They used to be heavily involved in the national government. But since Ethiopian Prime Minister Abiy Ahmed took over in 2018, they haven't had much control in national politics.
Things got worse after Ethiopia delayed national elections because of the coronavirus. Tigray held elections anyway. As a result, the Ethiopian government says Tigray's government is illegal.
Mr. Abiy says Ethiopia's attack on Tigray will be limited and won't grow into larger fighting. Many people worry that the attack will lead to a larger war, involving other parts of the country.
Coronavirus Fears Lead Denmark to Kill All Minks
Denmark says it will kill all minks on farms in the country because they carry a changed form of the coronavirus, which could affect humans.
Minks are one of the few animals that can get the coronavirus. Scientists have discovered that the coronavirus has changed as it has spread through Danish mink farms. Now a version of the changed virus has spread back to about 12 people.
Scientists around the world are working to develop a vaccine to protect humans against the coronavirus. Health experts worry that the vaccines won't work against a new version of the coronavirus, so they're trying to make sure the changed version doesn't spread.
Killing farm animals to keep diseases from spreading is called culling. Culling is more complicated than simply killing animals, because the bodies need to be gotten rid of without spreading the disease further.
Denmark is the world's largest producer of minks, which are raised for their furs. The cull will require killing over 15 million animals from around 1,100 farms.