Lima, Peru —(Map)
After 24 hours without a president, Peru's Congress has named Francisco Sagasti to lead the country. He's Peru's third president in the last week. Lawmakers hope the move will calm the country down after a confusing and violent week.
Peru has long struggled with corruption in its politics. Corruption is when politicians use their power in ways that aren't allowed in order to help themselves or people they know. Examples of corruption include buying or selling votes, or a politician taking money to get the government to do business with a company.
Three of Peru's last four presidents (not counting the presidents of the last week) are being investigated for corruption. The fourth died as he was being arrested. More than half of the 130 members in Peru's Congress are being investigated for corruption.
President Martín Vizcarra came to power in 2018 when the previous president stepped down because of corruption. Mr. Vizcarra said his main goal was to end corruption. At the time, Mr. Vizcarra wasn't well known, and his party had only five of the 130 members in Congress.
Mr. Vizcarra made many efforts to deal with the corruption in the country, and he became popular with the country's people. But he had many problems with Congress, which tried to block his efforts in many ways.
In September, members of Congress tried to impeach Mr. Vizcarra, charging him with corruption from a time before he became president. The charges haven't been proved. The effort to impeach Mr. Vizcarra failed, but Congress continued to look for ways to remove him.
On November 8, Congress used a very old and little-known part of Peru's constitution to force Mr. Vizcarra out. Only a small group of lawmakers voted against removing Mr. Vizcarra. The next day, Manuel Merino, the leader of Congress, was sworn in to replace him.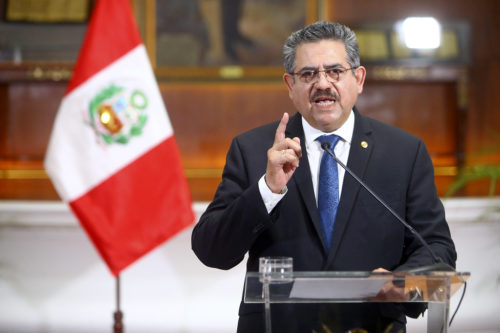 The people of Peru were shocked to suddenly have a president who wasn't elected, but was chosen by Congress. Many people in Peru don't trust Congress. The move quickly led to huge protests across the country.
Though the protests were mainly peaceful, police cracked down violently on the protesters, using tear gas and water cannons, and shooting rubber bullets. The protests became even bigger after two protesters were killed by police on Saturday.
On Sunday, just six days after becoming president, Mr. Merino stepped down. For 24 hours, Peru was left without a leader. Finally, on Monday, Congress chose Francisco Sagasti to serve as president until a new president can be chosen in next April's election.
It's not yet clear whether Peru's people will accept Mr. Sagasti as leader. Like Mr. Merino, he wasn't elected, but was chosen by Congress. But it may help that Mr. Sagasti voted against removing Mr. Vizcarra.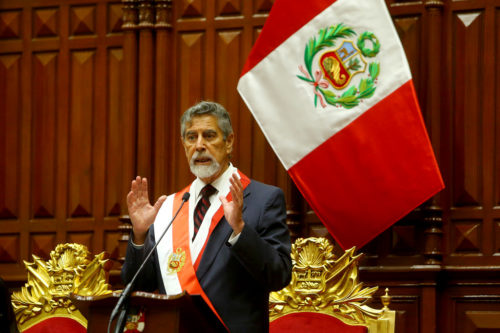 Mr. Sagasti, 76, isn't well-known in the country – this is his first time serving in Congress, The job will be a huge challenge. Not only is there still massive anger over politics, but Peru is also struggling to control the coronavirus.
"We will do everything possible to return hope to Peru," Mr. Sagasti said.
---
Did You Know…?
Peru's Congress actually only selected Mr. Sagasti as the head of Congress, but because the country does not currently have a president or vice president, he automatically becomes the country's leader.