Today, NFK looks at long-term protests in several countries. In Thailand, protesters are demanding big government changes, in Belarus, people are protesting the results of August's elections, and in Hong Kong, a strict new law has nearly ended all protests.
Thailand
In Thailand, thousands of people have been protesting for months. The protesters – mainly students and young people – want the prime minister to resign, and they want changes to the country's constitution.
They also want to change the way the monarchy – the Thai royal family – is treated. The monarchy is very important in Thailand. Anyone who insults the king can be sent to jail for a long time.
The country's prime minister, General Prayuth Chan-ocha, has led Thailand since the army took control of the country in 2014. Mr. Prayuth strongly supports Thailand's king.
As police have treated protesters more violently, protesters have become more upset. Now, protesters are openly insulting the king and demanding changes in the country's treatment of the royal family.
Parliament recently made small changes to the constitution, but didn't change anything related to the monarchy.
Both sides now say they'll become even tougher. The protesters say they'll make more demands. Mr. Prayuth says the country will use "all laws" to stop the protesters.
Belarus
More than three months after its August election, thousands of people in Belarus continue their weekly protests. The election, which seemed to show President Aleksandr Lukashenko winning for the sixth time, is believed to have been unfair. It has been condemned by many countries.
Mr. Lukashenko has used extreme methods to try to end the protests. Most of Mr. Lukashenko's opponents have been arrested or forced to leave the country. Many protesters have been fined. As many as 20,000 people have been arrested. Thousands have been beaten, and some have died.
Recently, the government locked bank accounts that were being used to help protesters pay for fines and hospital bills.
Still, thousands of people keep protesting every week. Many hope that help from outside the country can change the situation.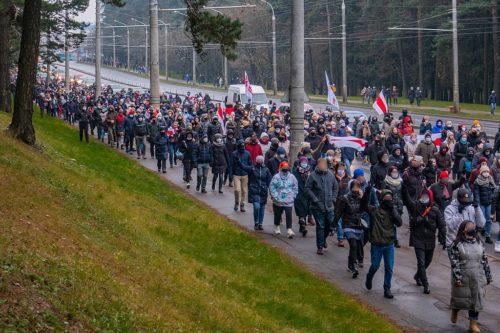 In response to the situation, the European Union (EU) and other countries have begun sanctions against several Belarus government leaders. Now the EU is getting ready for a second, stronger set of sanctions.
Hong Kong
For over a year, protesters in Hong Kong took to the streets, demanding to keep their political system separate from China's. But since China passed a strict new law in July, the protest movement has been almost completely squashed.
China's government strictly controls what Chinese people can see, say, and do. China deals harshly with people who go against the government.
Though Hong Kong is part of China, China only took control in 1997. Before that, Hong Kong was controlled by Britain. When China took over, it agreed that Hong Kong could keep its own systems of politics, laws, and business until 2047.
That idea ended when the new law was passed. Since then, there have only been a few small, careful protests. Many people, including teenagers, have been arrested for their part in earlier protests.
Recently, China removed four opposition politicians from the local government council. In protest, 15 other opposition politicians stepped down. Now there's almost no one on the council who doesn't support China's positions.