Kampala, Uganda —(Map)
President Yoweri Museveni has been declared the winner of Uganda's election for president. Bobi Wine, who came in second, says the election was unfair. Mr. Wine is currently being held at his house by members of Uganda's military.
Mr. Museveni, 76, has led Uganda for 35 years. On Saturday, the country's election commission reported that Mr. Museveni won last Thursday's vote 58.6% to 34.8%, giving him his sixth term in office. Though 11 people ran for president, Mr. Wine was Mr. Museveni's main opposition.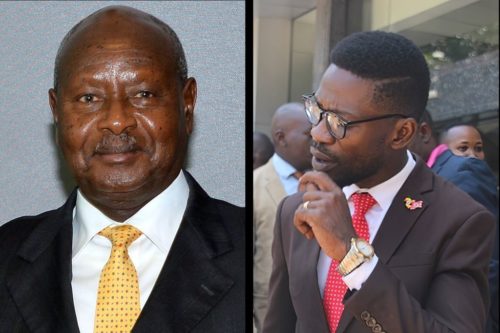 Mr. Wine, whose real name is Robert Kyagulanyi, is a popular singer who was elected to Parliament in 2017. At age 38, he's half of Mr. Museveni's age, and has gotten much support from Uganda's young people.
The government says the elections were free and fair. But Mr. Wine says he doesn't accept the results, calling them "the worst elections Uganda has seen in a long time."
Many questions have been raised about the election. Several international groups that planned to observe the election weren't allowed to. At least 26 observers were reported to have been arrested on the day of the election.
There are even greater concerns about the process before election day. Mr. Wine was arrested several times after he announced that he was running for president. Police and the military also stopped him from visiting some areas of the country while he was campaigning.
Though there was no violence during last Thursday's voting, the election has been one of the most violent ever. At least 54 people were killed in the protests after Mr. Wine was arrested in November.
Two days before the election, the government blocked most social media. On the night before the election, the country's internet was turned off and has not yet been turned back on.
The internet problems made many people question the election results. It's not clear how different areas of the country were able to report their election results while the internet was not working. The head of the election commission said, "We are using our own system."
Mr. Wine says he has proof that the election wasn't fair, and that he will share this proof when internet service is restored.
But he may not be able to do so. After the election, Mr. Wine's house was surrounded by soldiers. The government says the soldiers are there to protect Mr. Wine.
Mr. Wine says he and his wife haven't been able to leave his house for four days, and that they are worried for their lives. At least one person who tried to visit Mr. Wine was arrested, and then taken to the hospital after he had been beaten up.
The US and the UK have called for investigations into the problems with the election. Mr. Wine's political party says it will fight the election results.
It's not clear if they have much chance of success. In Uganda's last election for president in 2016, both election observers and the opposition complained that the election was unfair. Still, Mr. Museveni stayed in power, and seems likely to remain there.