Record Hurricanes Pound Central America
Strong hurricanes have pounded Central American countries in recent weeks. Hurricane Eta and Hurricane Iota have destroyed buildings, flooded cities and towns, left hundreds of thousands of people homeless, and killed close to 300 people.
This year has set a record for Atlantic hurricanes, with 30 named storms. Usually storms that come late in the hurricane season are weaker. But Eta and Iota both got much stronger rapidly as they passed over warm ocean water.
Eta, a Category 4 hurricane, was the strongest storm of the season until Iota came along. Iota became the season's only Category 5 hurricane, with winds up to 160 mph (260 kph).
The effects of these storms were greatest in Honduras, Nicaragua, and Guatemala, but many other countries in Central and South America were affected.
In many of these places, it will take months, if not years, to rebuild. In Honduras, hundreds of thousands of people are still in emergency shelters, where the risk of the coronavirus spreading is high.
If you'd like to help out, this article by PBS has a good list of organizations working to help people affected by the hurricanes.
Protests and Violence Follow Arrest of Ugandan Politician
Uganda has been shaken by extreme violence as it prepares for elections in January. At least 37 people died and over 300 were arrested during protests following the arrest of a leading opposition candidate, Bobi Wine.
The current president, Yoweri Museveni, is 76 and has led the country since 1986. Recently the country's constitution was changed to allow him to run for a sixth term.
Mr. Wine, whose real name is Robert Kyagulanyi, is a popular singer who became a politician in 2017. He's been arrested many times since he announced he was running for president. Police arrested Mr. Wine again on Wednesday, saying a rally of his supporters broke coronavirus rules.
The arrest led to huge protests across the country. Protesters blocked streets in the country's capital, Kampala. Police responded violently, using teargas and shooting real bullets.
In court, Mr. Wine said, "I am not here because I committed a crime. I am here because I offered myself to lead Ugandans into ending 35 years of a dictatorship."
Mr. Wine has been released, but he is still charged with the crime.
Famous Telescope to be Taken Down After Damage
The National Science Foundation (NSF) says that the radio telescope at Arecibo Observatory in Puerto Rico will be taken down because it's been damaged in a way that can't be easily or safely repaired.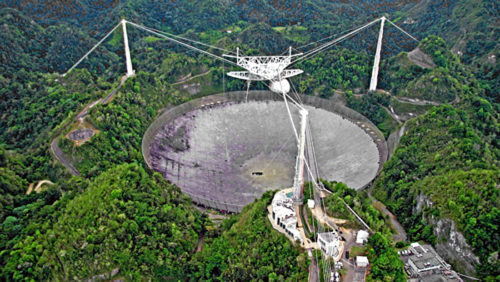 The dish of the telescope is 1,000 feet (305 meters) across, making it one of the largest in the world. Above the dish is a 1,800,000 pound (816,466 kilogram) platform. Three towers hold up the heavy platform, each supported by four cables.
In August, a support cable on one tower snapped, cutting a 100-foot (30.5 meter) gash in the dish. On November 6, a second cable on the same tower broke. The NSF is worried that more cables will snap, putting anyone trying to repair the telescope in danger, so they've decided to destroy it instead.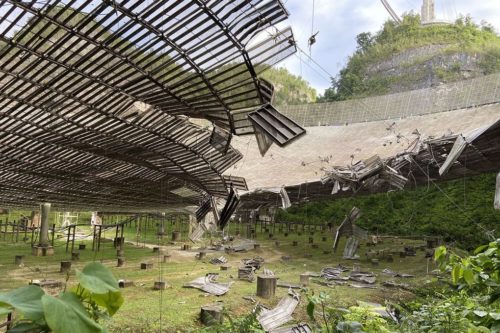 The telescope will be missed by scientists around the world. It has been in service for 57 years, and was an important part of the work that won the 1974 Nobel Prize in Physics.