The United States got new leaders yesterday as President Joe Biden and Vice President Kamala Harris were sworn in. Mr. Biden is planning a rapid change from many of the plans followed by Ex-President Donald Trump.
A Different Kind of Inauguration
Yesterday's inauguration was similar to past inaugurations, and yet very different. Normally, presidential inaugurations are huge events with large crowds. But because of concerns over the coronavirus, large gatherings weren't possible.
Plans for the inauguration changed even more after supporters of ex-President Donald Trump attacked the US Capitol building on January 6. About 25,000 members of the National Guard were brought in to make sure the inauguration was held without more violence.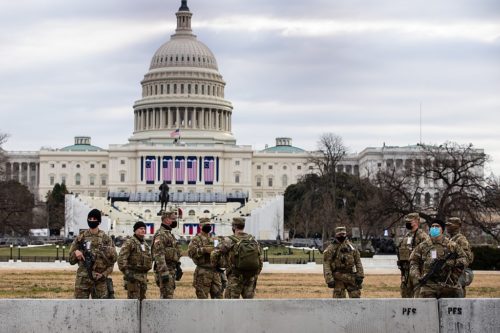 These plans made the US Capitol more secure, but it also made it much more difficult for ordinary Americans to take part in the inauguration celebration. Yesterday, the National Mall held nearly 200,000 flags, representing the people who would normally have filled the area.
Because most people couldn't attend in person, Mr. Biden's team made an extra effort to make sure that people could see the inauguration online. The inauguration ceremony, as well as many of the other related events and concerts were streamed over the internet.
Swearing-In
In a ceremony that was both serious and hopeful, Mr. Biden and others spoke plainly about the challenges facing the country and a belief that Americans could come together to solve those problems.
Ms. Harris was sworn in first by Supreme Court Justice Sonia Sotomayor. Ms. Harris is the first woman, first Black person, and first Asian person to hold the office of Vice President.
After he was sworn in by Supreme Court Chief Justice John Roberts, Mr. Biden spoke to the country for the first time as its president.
In his speech, Mr. Biden stressed the importance of national unity – bringing the country together – and promised to be a president for all Americans. "I will fight as hard for those who did not support me as for those who did," he said.
He also took a moment for a silent prayer for the 400,000 Americans who have died because of the coronavirus.
The morning's ceremony was broken up with lively musical performances by the singers Jennifer Lopez, Lady Gaga, and Garth Brooks.
After Mr. Biden spoke, 22-year-old poet Amanda Gorman shared the poem she wrote for the inauguration, called "The Hill We Climb". Her exciting performance thrilled many viewers.
First Day in Office
The ceremony marked a huge change in the way the country will be run. Mr. Trump's actions were often unexpected. At times his behavior was very different from the way most presidents have behaved in the past.
Mr. Biden seems determined to show that he is a different kind of president. He's also not wasting any time before changing many of Mr. Trump's policies. Even on his first day – not normally a heavy workday for new presidents – Mr. Biden signed 17 special orders.
These orders attempt to undo many of Mr. Trump's actions in different areas, including tackling the coronavirus, protecting the environment, and changing the way the country deals with immigrants.
---
Did You Know…?
One of Mr. Biden's first actions after taking office was to rejoin the
Paris Climate Agreement
.
(Front page image of Mr. Biden being sworn in: JCCIC [Public domain], via Wikimedia Commons.)