Yangon, Myanmar —(Map)
For the last three weeks since the military took control of Myanmar in a coup, people have been protesting across the country. Thousands of protesters take to the streets daily, in spite of the military's harsh crackdown.
On February 1, Myanmar's military took over the country in a coup, driving military vehicles into major cities, and cutting off the internet temporarily. The coup came just before a new session of Parliament was set to begin.
The country's leader, Aung San Suu Kyi was arrested, along with many members of her political party. So were many reporters and people who have worked to bring more freedom to the country.
The military say they "had no choice" but to take action following last November's elections, which they claim weren't fair. In those elections, Ms. Suu Kyi's party easily defeated the military's political party. Many people believe the military took action because they were scared that Ms. Suu Kyi's popularity might weaken their power.
The military declared a one-year state of emergency, and put the army's leader, Senior General Min Aung Hlaing in charge. The military says it will hold "free and fair" elections after a year. Many people doubt this will happen.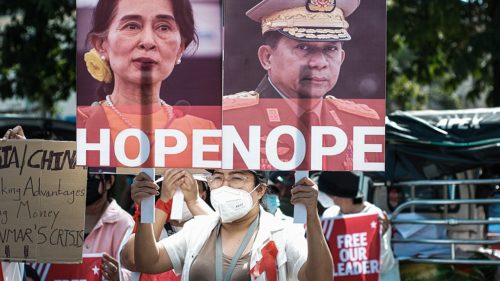 The coup wasn't welcomed by Myanmar's people. Soon, nightly protests, with people banging loudly on pots and pans, turned into larger protests on the streets. Hundreds of thousands of workers are protesting the coup by refusing to go to work.
Myanmar's people know what it's like to live with the military in charge. Following a coup in 1962, the military controlled the country for nearly 50 years, until 2011.
In recent weeks, there have been daily protests in large cities around the country, and more and more people have been showing up. Thousands of people have gathered on the streets, holding signs against the coup and in support of Ms. Suu Kyi.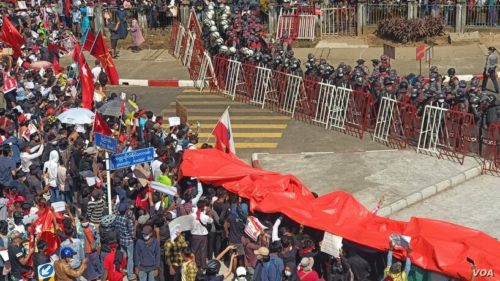 Many protesters are raising their hands in a three-fingered salute to show that they oppose the military. The hand movement comes from the Hunger Games books and movies, and has been used widely by protesters in Thailand.
Last Wednesday, protesters in Myanmar's largest city, Yangon, held the biggest protest yet. They blocked streets and bridges with their cars to keep military vehicles away.
Over 500 people have been arrested. At night, the government has been shutting down the internet to make it harder for the protesters to organize.
Police and soldiers have cracked down on the crowds of protesters, trying to control them with tear gas and water cannons. The military has often used rubber bullets, but they have also begun to use real bullets.
On February 9, a 20-year-old student was shot and taken to the hospital. She died last Friday and was buried yesterday. Her death brought even more protesters out. On Saturday, two more people were killed during the protests, and 30 people were injured.
More protests are planned for Monday. The sister of the student who was killed says the protesters won't give up. "We will keep on fighting until we win," she says.