Last week, the United Nations (UN) released the most complete report ever created on the global problem of food waste. It found that the world wastes about 17% of all the food produced. That's about a billion tons of food a year.
A billion tons is a lot of food – it's over 2 trillion (2,000,000,000,000) pounds or about 931 billion (931,000,000,000) kilograms. The report says that the amount wasted is roughly twice as much as earlier studies had suggested.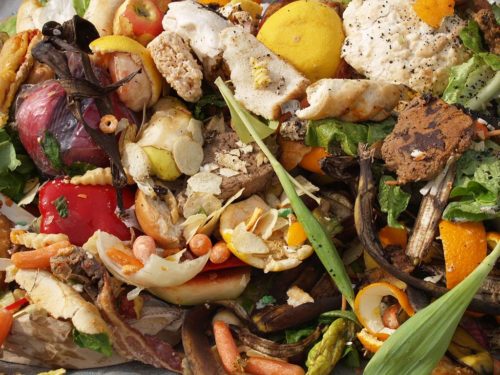 The report was produced by the UN's Environment Program (UNEP) and covered food waste around the world in 2019. The study looked a several different ways in which food is wasted – at home, in restaurants and in stores.
It turns out that by far, most food waste – about 61% – happens at home. On average, the amount of food thrown out at home works out to about 163 pounds (74 kilograms) for each person every year.
Restaurants were responsible for about 26% of the food wasted. The remaining 13% was thrown away by stores.
One surprising discovery was that food was wasted at about the same rate in all but the poorest countries. (The UN had difficulty measuring food waste in the poorest countries.)
Many people thought rich countries were more likely to waste food than countries that were less rich. That turned out not to be true. In fact, some richer countries wasted far less food than average.
But people in richer countries may waste less food at home because they are eating out at restaurants more often. That certainly seems to be the case in the US, which has low waste numbers for homes, but quite high numbers for restaurants.
In some cases, labels might be causing food waste, the report said. People might be throwing away food even though it's still good to eat, simply because the container's "Best By" or "Sell By" date has passed. In poorer countries, food may be wasted because not all homes have a refrigerator.
One important thing to understand is that the UN's report looks at food as it is sold. That means that "food waste" also includes the parts of food that can't be eaten, such as bones and shells, or pits, seeds, and peels from fruit.
Why is wasting food such a problem? For one thing, the report points out, hundreds of millions of people went hungry in 2019.
But wasting food is also really bad for the planet. Farming creates between 10% and 30% of the world's greenhouse gas emissions – the pollution that's making the climate crisis worse. So when food gets thrown out, the pollution is created for nothing.
The UNEP report says that its important for countries to study food waste more carefully in order to figure out ways to solve the problem.
Some possible uses for food waste include making food for animals, creating compost to help crops grow, or burning food scraps to create energy. The important thing is to keep food from simply going into the dump.
---
Did You Know…?
The UNEP report didn't even look at food "loss", which happens before the food reaches stores or restaurants. Taken together, food loss and food waste mean that about one-third of all food that's produced doesn't get eaten.