Beijing, China —(Map)
Beijing and much of northern China have been hit by an intense dust and sand storm. The storm, driven by winds across the Gobi Desert, has turned the skies of the Chinese capital orange, and left the air unsafe to breathe.
People in Beijing struggled to get to work on Monday morning in a city covered in an orange haze. The air was thick with tiny bits of sand and dust, making it difficult to breathe and impossible to see very far. As one person told the news service Reuters, "It looks like the end of the world."
The US Air Quality Index (AQI) is one way to measure air pollution. It goes from 0 to 500. Zero is "Good", 150 is "Unhealthy", and from 300 to 500 is "Hazardous" (dangerous). On Monday, Beijing's AQI was 999.
Though the sand and dust are the main source of the sky's orange color, they are not the only cause. In recent weeks, air pollution across northern China has been very heavy, as factories work to make up for business that was lost because of the coronavirus.
China's national weather service reminded people in the affected areas to keep doors and windows closed. People were told to protect themselves by wearing masks and scarves when going outside. Schools were asked not to hold outdoor activities. Around 20% of the flights were canceled at Beijing airports.
NASA's Earth Observatory says that the sandstorm appears to have started in the Taklamakan Desert in Northwest China, and then developed extremely quickly. China's weather service says this is the worst sandstorm in over 10 years.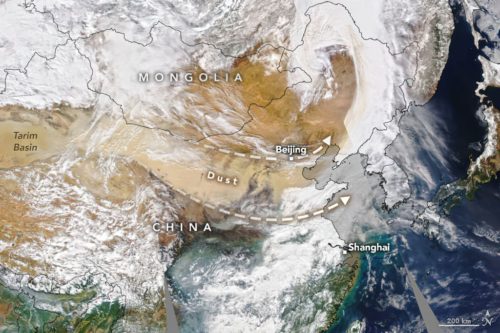 The dust storm is also the biggest in 10 years. The storm affected 12 provinces across northern China. In nearby Mongolia, the sandstorm was especially intense. Several people died as a result of the storm and hundreds of people were missing.
In the past, China often had terrible dust storms in the spring, as winds blew across the Gobi Desert. For years, the problem was made worse because the country had cut down so many trees, which helped to block the winds and keep the soil in place.
In 1978, China began a program called the "Green Wall" to plant trees, bushes, and grasses near the desert to help hold the sand in place. An area of around 193,000 square miles (500,000 square kilometers) has been planted, creating the largest human-planted forest in the world.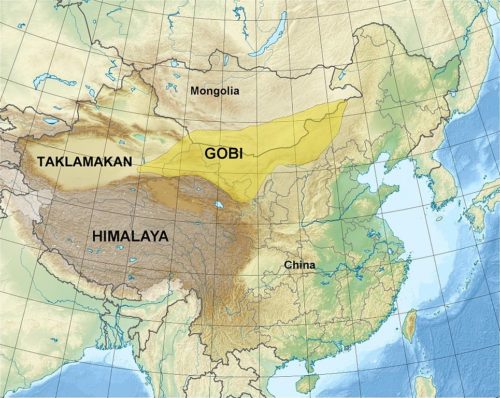 Thanks to the Green Wall, the dust storms have happened less often in recent years. But clearly, the problem hasn't completely gone away.
China's weather service expects the skies to begin to clear up on Tuesday and Wednesday.