Attack Damages Iran's Nuclear Factory
On Sunday, an explosion happened at Iran's Natanz nuclear factory. The blast took out the plant's electrical system and did a lot of damage. It's believed that it could take Iran nine months or more to repair the damage.
Iran called the attack "nuclear terrorism" and blamed Israel. There are some reports which support this idea. The two countries have long been enemies, and Israel has made it clear that it doesn't want Iran to develop nuclear weapons.
Though Iran says that it doesn't plan to develop nuclear weapons, the country's nuclear activities are greatly worrying for many other countries. In response to the attack, Iran has already promised to raise its nuclear activities to an even higher level.
In 2015, the US and several European countries signed an agreement with Iran to limit Iran's nuclear program. After Ex-President Donald Trump backed out of the plan, Iran began breaking other parts of this agreement.
Since President Joe Biden was elected, the US and Iran have discussed going back to the 2015 agreement. The US and other countries want Iran to cut back on its nuclear activities. Iran wants the US to drop the sanctions the US is using to punish the country. Both sides want the other side to go first.
The two sides are holding talks this week in Europe. The talks were already challenging. The attack has made them even more difficult.
Japanese Golfer Hideki Matsuyama Wins Masters
On Sunday, golfer Hideki Matsuyama won the Masters Tournament, making him the first Japanese man to win a major golf championship.
Matsuyama, 29, first played in the Masters 10 years ago. Since then, he's been improving his game. He says he was nervous when he started on Sunday, even though he had a lead. But soon his calm, confident way of playing came back. He finished the tournament at 298, 10 under par.
Though Matsuyama has won other tournaments, the Masters is one of the world's four most important golf championships. One of its special traditions is the green jacket that's given to the winners. This year, the win also brings a prize of over $2 million.
Matsuyama is already much-loved in Japan, and his big win has made him even more popular. Many people think Matsuyama's victory will make it easier for other Asian golfers to show their skills in the future.
US Restaurants Can't Keep Up on Ketchup
There's a surprising shortage in the United States – ketchup packets. Normally, fast food restaurants give customers lots of ketchup packets – often without customers even asking for them. But now US restaurants are having a hard time getting enough ketchup.
To stay in business during the coronavirus pandemic, all kinds of restaurants switched over to selling take-out food. That meant that many restaurants that used to use ketchup bottles suddenly needed ketchup packets. The price of ketchup packets went up 13%.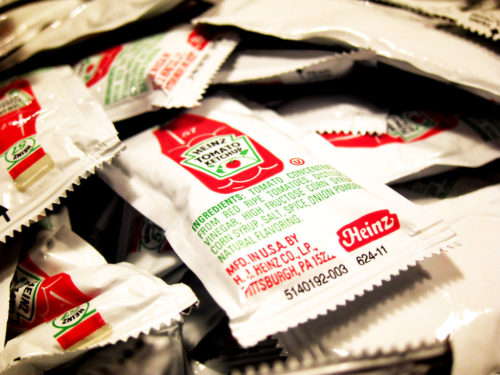 Heinz supplies about 70% of the ketchup sold in the US. To catch up to the demand, Heinz says it will begin producing 25% more ketchup. How much is that? 12 billion packets a year.