Chad's President Dies After Winning Election
The army of the African nation Chad reported that President Idriss Déby was killed on Tuesday while visiting soldiers. Chad is fighting rebels who are attacking the country from the North. Not many details are known about Mr. Déby's death.
Mr. Déby, who was 68, came to power in a 1990 military coup. Since then he's been a tough leader, dealing harshly with people who oppose him.
Mr. Déby's death came one day after he was declared the winner of Chad's April 11 election for president. It would have been his sixth term as president. Many opposition candidates were prevented from running. Others boycotted the election after violent attacks on protesters and other candidates.
In spite of his harsh treatment of Chad's citizens, many outside countries supported Mr. Déby because he fought terrorists in the area.
Mr. Déby's son, Mahamat Déby, has now formed a temporary military government. This government has shut down Parliament, suspended the country's Constitution, and closed Chad's borders.
The rebels say they'll keep fighting until they remove Mahamat Déby from power.
Police Officer Found Guilty in Killing of George Floyd
Last May, a Black man called George Floyd died after a police officer named Derek Chauvin kneeled on his neck for over nine minutes. The event led to huge protests around the world. It drew attention to a pattern of police violence against people of color in the US.
Mr. Chauvin was put on trial for killing Mr. Floyd. On Tuesday, he was found guilty of all charges. Mr. Chauvin could go to jail for up to 40 years.
The trial's verdict has led to a feeling of relief for many Americans who worried that Mr. Chauvin might not be punished for his actions. It's unusual for police officers to be punished for violent actions. Protesters in many US cities celebrated the verdict, which they saw as justice for Mr. Floyd.
US President Joe Biden said that the verdict was a "step forward in the march toward justice in America." But, like many Americans, Mr. Biden believes there's still much work to be done to remove racism from the US system of justice.
3D Twin Created of Michelangelo's David Statue
Artist Michelangelo's sculpture of David is one of the most famous artworks of all times. Michelangelo carved the 17-foot (5.2-meter) tall statue from one massive block of marble in the early 1500s. Now that sculpture has a twin.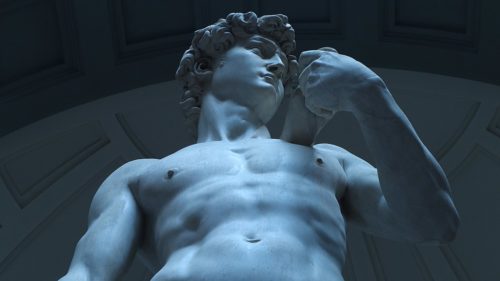 Because David is so famous, there are already lots of copies, But this time, a team of scientists and artists have worked for over a year to create the most accurate and complete copy ever.
Their first step was to create an incredibly detailed 3D scan using laser scanners. Next, the team used a huge 3D printer to 3D-print large sections of the sculpture.
Once the pieces were put together, a team of trained art restorers recreated every detail of the original. They matched the color changes of the original marble, and even included all of the statue's cracks, scratches, and stains.
The finished statue will represent Italy in a large show in Dubai, United Arab Emirates in October.
---
Did You Know…?
One big difference between the two statues is the weight. Though the copy is quite heavy at about 1,200 pounds (550 kilograms), the original David weighs 10 times as much.