Netanyahu Removed After Years As Israel's Leader
Israel's long-time leader, Benjamin Netanyahu, has been removed from power. A coalition government formed by eight political parties was approved by Parliament on Sunday night.
The country's new prime minister is Naftali Bennett. Mr. Bennett, who used to work with Mr. Netanyahu, is more politically extreme than Mr. Netanyahu in many areas. But in order to remove Mr. Netanyahu, Mr. Bennett had to join forces with political parties with very different points of view.
Under the coalition's agreement, Mr. Bennett will be prime minister for two years, and then Yair Lapid will take over for the next two years.
Many people don't expect the coalition to last long. The coalition was approved 60-59. One lawmaker actually came from the hospital to make sure the vote would pass.
Mr. Netanyahu led Israel for the last 12 years, and for 15 years in total. He has had a huge influence on Israel and its relations with the rest of the world. Mr. Netanyahu is still powerful in Israeli politics and seems determined to fight the coalition.
China Sends Astronauts to Its New Space Station
On Thursday, China launched its Shenzhou-12 spacecraft, carrying three Chinese astronauts to its new space station. The space station, called Tiangong (Heavenly Palace), isn't finished yet. But the section which contains the living area for astronauts was launched in April.
The three astronauts will remain in the space station for the next three months, helping to test and prepare it. Over the next year, China plans to send many missions to the space station, which it hopes to complete by 2022.
China hasn't been allowed to use the International Space Station since 2011 over fears that it might steal technology ideas. As a result, China has put a lot of effort into creating its own station.
In recent years, China has made great progress in space, launching several missions to the moon and Mars. In February, it landed a rover on Mars.
China is now showing greater confidence. In the past, its missions were carried out quietly, with reports coming later. Thursday's launch was carried live on Chinese TV.
Florida City Sells Its Water Tower By Accident
When Bobby Read tried to buy a building from the city of Brooksville, Florida, he got a lot more than he planned on. By accident, the city also sold him their water tower.
Mr. Read asked the city council if he could buy a storage building near the water tower. Mr. Read is a trainer and he wanted to turn the building into a gym. The city council studied his idea and agreed to sell him the building for $55,000.
But when Mr. Read went to get an address for his new business, he got a surprise: because of the way the city's land was divided, the land that Mr. Read bought also included Brooksville's water tower.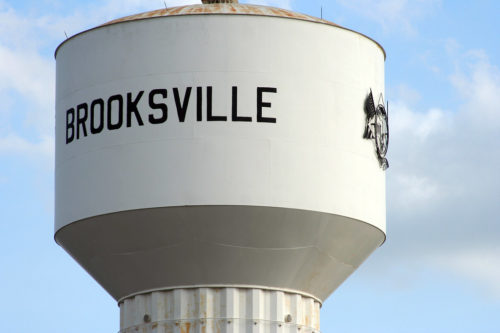 Luckily for Brooksville, Mr. Read was happy to return the water tower. Now the paperwork is all sorted out. Mr. Read has his building and the city has its water tower back. Brooksville's mayor, Pat Brayton, says, "We just need to be darn sure that it doesn't happen again."