Mars —
On Friday, China landed its Zhurong rover on the surface of Mars – a huge step for the country's space program. The Zhurong will join NASA's rovers and its Ingenuity helicopter, which are also doing things never been done on Mars before.
China Lands Its Zhurong Rover
China's Tianwen-1 has been orbiting Mars since it arrived in February. On Friday, a lander carrying the Zhurong rover touched ground safely in a large, flat area of Mars called Utopia Planitia.
Landing safely was a challenge. It had to be done automatically because of the time it takes signals to travel between the Earth and Mars. The lander had to slow down from a speed of about 10,700 mph (17,000 kph) to zero in about 9 minutes.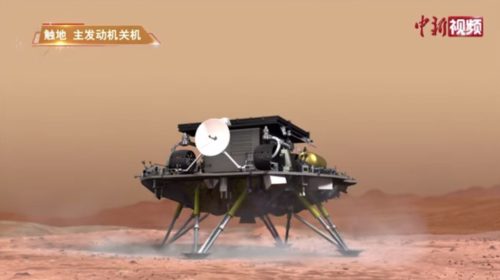 Just before landing, the lander's upper shell broke away. Its lower half used rockets to gently reach the planet's surface with the rover on top. About three hours after the landing, China's space agency learned everything had gone well.
Zhurong is expected to run for at least 90 days. It has several tools on board that will help it study the rocks and magnetic fields on the ground.
It also has special radar that will let it build a picture of what's below the surface of Mars, up to 330 feet (100 meters) deep. The radar could help locate large underground pockets of ice, if there are any.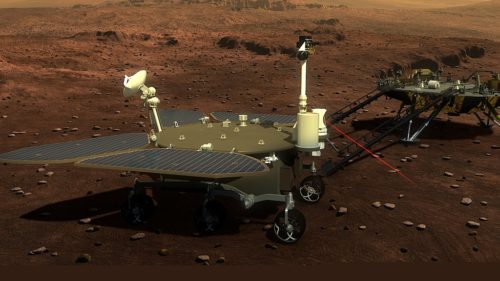 The landing is a huge success for China's space program. About half of all Mars missions fail. Now China's the only country beside the US to land a working mission on the planet's surface.
NASA: Helicopter Surprises & Making Oxygen
NASA's Perseverance rover has been on Mars since mid-February. Perseverance brought along a small helicopter called Ingenuity. On April 19, Ingenuity became the first powered aircraft to make a controlled flight on another planet.
That was a big deal because the flying conditions on Mars are completely different from those on Earth. For one thing, the atmosphere on Mars is about 100 times thinner than on Earth. But Ingenuity flew extremely well. In its first test it simply lifted off and landed. But soon it was doing more complicated flights.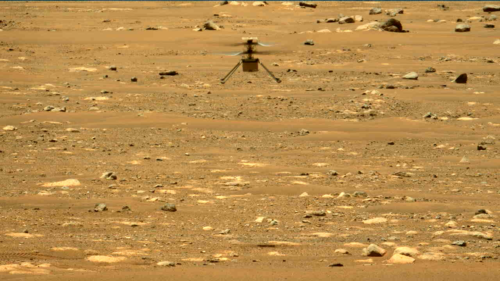 Ingenuity was planned as a technology test, just to see if a helicopter could fly on Mars. But it has done so well that NASA has now decided to use it to help Perseverance on its mission. The helicopter will fly along and help scout locations for the rover.
It's not clear how long the little helicopter will last. It was only designed to run for 30 days, and it could be landing in some dangerous areas where it's more likely to have an accident.
On April 20, NASA had another Mars first: a device called MOXIE created oxygen from carbon dioxide in the Martian atmosphere. Carbon dioxide gas makes up 96% of the atmosphere on Mars, making it toxic for humans to breathe.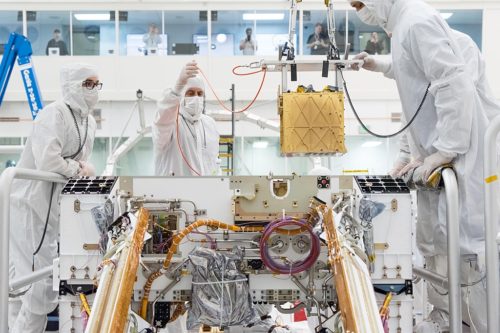 In order for humans to spend time on Mars, they'll need to be able to create oxygen to breathe. Large amounts of oxygen could also be used as fuel for spacecraft.
MOXIE is a small device about the size of a car battery, designed to test the technology for making oxygen from the Martian atmosphere. In its first test, MOXIE created enough oxygen to allow an astronaut to breathe for about 10 minutes.

---
Did You Know…?
Zhurong is the name of the god of fire in
ancient
Chinese myths.