It's been over a week since Hurricane Ida slammed into Louisiana, and the area is still struggling to recover. So are many states much farther north which were surprised by the extreme damage the hurricane brought with it.
So far, Hurricane Ida has caused at least 60 deaths. Many more people have been injured, left homeless, or left without electricity. President Joe Biden has promised emergency support for many of the hardest hit areas.
In New Orleans, nearly 500,000 people are still without power. Roughly 14,000 poles carrying electric cables needed repair after the hurricane. High temperatures have made the week without electricity extremely challenging.
The good news for New Orleans was that its improved levee system worked, protecting the city from most serious flooding. Other nearby areas weren't so lucky. Many have been nearly destroyed. In these places, life remains challenging, with no electricity, no running water, limited food, and gasoline supplies running low.
Hurricane Ida didn't just pound the Louisiana coast. The storm did an incredible amount of damage across the Northeast in states like Maryland, Pennsylvania, New Jersey, and New York. In some states, the hurricane triggered tornados.
In many states, Ida caused serious flooding, which caught many people unprepared. Several deaths were caused by flooded cars and flooding in basement apartments.
Now these states are cleaning up the damage left by the floods. They are also beginning to think about steps they can take to make sure that future storm systems don't do so much damage.
Pollution Problems in Louisiana
The Louisiana coast is a popular location for oil and gas businesses. The area handles much of the oil and natural gas made in the US.
In the days after Hurricane Ida struck Louisiana, a streak of oil several miles long was spotted in the waters off the coast. Since that time, the Coast Guard, NOAA, and others have been working to figure out the source of the leak.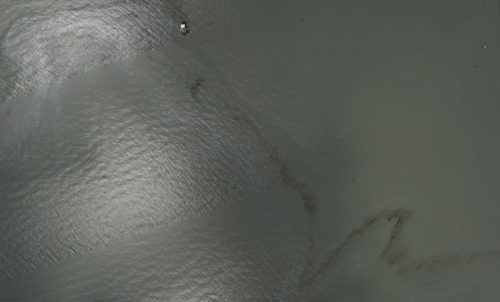 A company called Talos was believed to be responsible for the pipeline which caused the oil leak. Talos has brought in boats to control the spill, and divers to try to find the source of the leak. Now Talos says the leak isn't coming from its pipeline.
Luckily, that oil leak seems to be stopping. But the Coast Guard says it's trying to follow up on nearly 350 other oil leaks in the area.
Another pollution concern came up at some factories in the area which process oil. Before a big storm, these factories often try to burn off dangerous chemicals using special fires called flares.
But Hurricane Ida put out the flames at some of these flares, so the chemicals were being released without being burned up. Some factories also lost electricity, making it impossible for them to control the process.
As a result, some of these factories were putting out clouds of smoke that may have contained toxic chemicals. But no one knows for sure because the equipment that tests air safety in the area wasn't working because there was no electricity.
---
Did You Know…?
The floor of the Gulf of Mexico is covered with hundreds of pipes from oil projects dating back to the 1960s or before. While many of these are still active, others have been sealed off and simply left behind by the companies that are responsible for them.