Bonn, Germany —(Map)
Beethoven, one of the world's most-loved composers, is famous for his nine symphonies. Before he died, he began a new symphony, but never finished it. Computer scientists and musicians have now used artificial intelligence to finish his 10th Symphony.
Ludwig van Beethoven was born over 250 years ago, yet his music is still played daily around the world. Even people who think they've never heard Beethoven's music probably have. His melodies are often used in movies, TV shows, and even cartoons.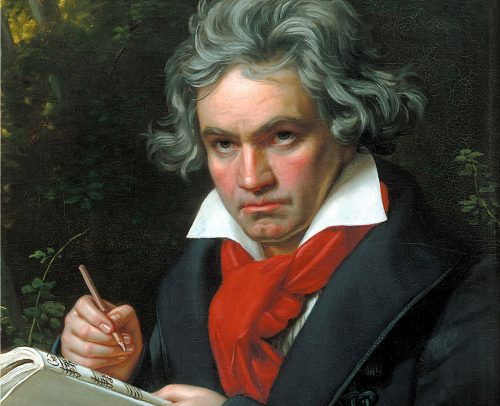 Beethoven wrote many famous pieces of music, but he's probably best known for his nine symphonies. A symphony is a long, complicated piece of classical music, usually divided into four parts. The four parts are often linked by "themes" – repeated musical ideas that tie the whole piece together.
When Beethoven died in 1827, he had some ideas for a 10th Symphony. But all that he left behind were some notes about the piece and a few "sketches" – short bits of written music.
In 2019, a special team of musicians, computer scientists, and historians was formed. Their goal: to try to complete Beethoven's 10th Symphony to celebrate his 250th birthday.
The team didn't just want to complete the symphony, they wanted to come as close as possible to producing the symphony that Beethoven meant to write. That's where deep learning came in.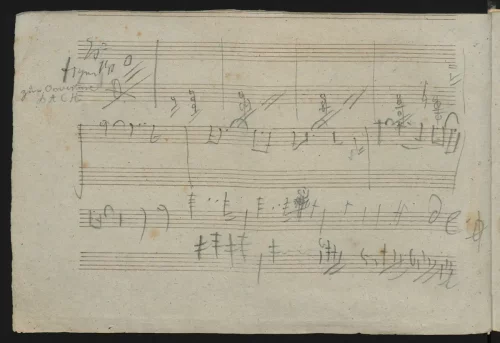 Deep Learning
Deep learning – sometimes called Artificial Intelligence (AI) – describes computer programs that sort deeply through huge amounts of information. This allows them to find patterns humans may not have noticed. The programs can then use those patterns in new and surprising ways.
To train an AI to help with the symphony, the team turned every piece of music that Beethoven ever wrote into a form the computer could understand.
By feeding the program all of Beethoven's music, the AI could look for patterns in the way Beethoven wrote. This included, for example, how he re-used simple melodies all through a piece to create a theme, or how he moved between different parts of the symphony.
Other members of the team studied Beethoven's notes and sketches, and worked to figure out what Beethoven was planning to do. Where in the symphony did he plan to use each little bit of music that he left?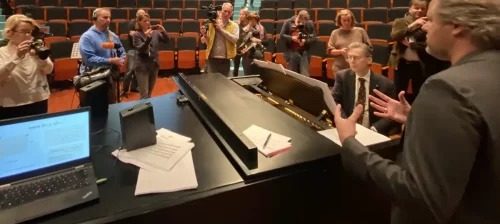 One early test told the team they were on the right track. They took a few minutes of music created by the AI based on Beethoven's sketches, and played it for Beethoven experts, musicians, and reporters. No one could tell which parts had been written by Beethoven and which parts the AI made up.
Finally, the AI had the challenge of trying to connect the little musical bits into a symphony.
It took over two years, but the team was able to complete Beethoven's 10th Symphony. Not simply a melody, but 40 minutes of music for a full orchestra – a large group of musicians playing everything from string instruments, like violins, to trumpets, flutes, drums, and piano.
😕
This image has not been loaded because of your cookie choices. To view the content, you can accept 'Non-necessary' cookies.
Last Saturday night, the piece was performed for the first time ever by the Beethoven Orchestra in Bonn, Germany.
So Beethoven now has a 10th Symphony. And though Beethoven didn't write it all, the team feels sure that the music is very much like what he might have written, if he'd had the chance.
---
If you're curious about what the new symphony sounds like, here is a link to an MP3 file containing a few minutes of the piece.
---
Did You Know…?
This is the second attempt to finish Beethoven's 10th Symphony. In 1988, musician Barry Cooper also worked on completing part of Beethoven's 10th.
😕
This map has not been loaded because of your cookie choices. To view the content, you can accept 'Non-necessary' cookies.