Akagera National Park —(Map)
Last Saturday, 30 white rhinos were loaded into an airplane in South Africa and flown to their new home in Rwanda. The organizers of the move hope the rhinos will be able to settle in the new area, and that their numbers will grow.
The project, organized by the group African Parks, is reported to be the largest rhino moving operation ever. Thirty white rhinos – 19 females and 11 males, some adult, some younger – were moved from the Phinda Private Game Reserve in South Africa to Akagera National Park in Rwanda.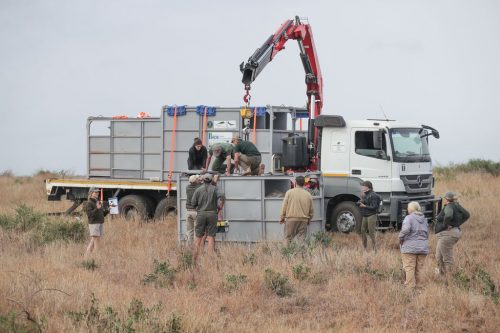 Jes Gruner of African Parks said, "This move is the first of its kind with so many animals from wild to wild. It's been a huge task." Mr. Gruner said that it had taken three years to organize the project.
Rhinos are threatened across Africa. Though they don't have any natural enemies, poachers have cut down the numbers of rhinos to dangerously low levels.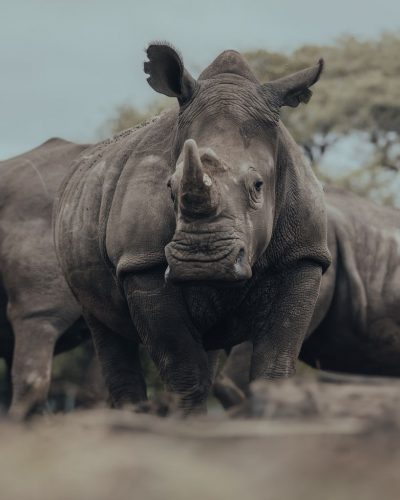 Poachers and Rhino Horns
Poachers kill rhinos for their horns. Other people, called "traffickers", buy the horns and sneak them out of the country. The traffickers sell the horns again for even more money, usually in Asia.
In some parts of Asia – especially China and Vietnam – many people think rhino horns have special powers. They pay a lot of money for the horns, sometimes grinding them into powder, and selling the powder like medicine. Rhino horns can sell for more than $27,000 a pound ($60,000 a kilogram).
The rhinos moved last week are southern white rhinos, and there are only about 18,000 of them left. They don't naturally live in Rwanda, but researchers hope that by giving them a new protected area to live in, they can help increase their numbers.
But moving rhinos isn't easy. Rhinos are huge. Males weigh an average of 5,070 pounds (2,300 kilograms). Females weigh about 3,750 pounds (1,700 kilograms) on average. They are also incredibly powerful and can be dangerous to be around.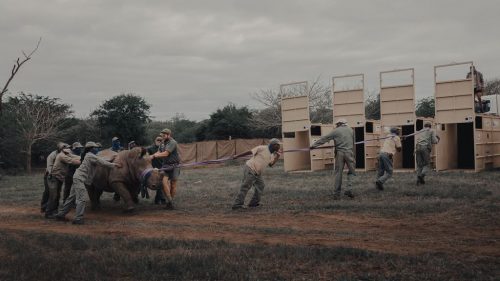 To move the rhinos, the organizers rented a huge 747 airplane. They gave the rhinos a shot to make them calm. Then they guided them into large, secure crates.
The crates were loaded onto trucks and taken to the airport, where the rhinos were loaded onto the 747. Once in Rwanda, the rhinos were taken by truck to Akagera National Park. They were released temporarily into two large enclosed areas, each as big as a football field. In all, the trip covered more than 2,110 miles (3,400 kilometers) and took about 40 hours.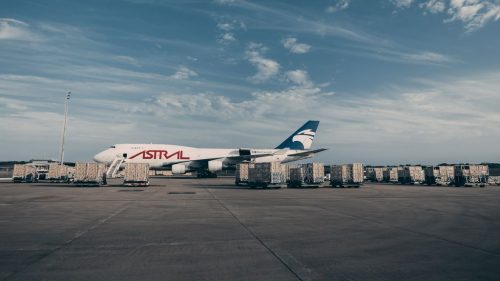 The Akagera National Park covers 433 square miles (1,122 square kilometers). A number of black rhinos were moved there in 2018. The park is well protected, and so far, no one has poached any rhinos inside the park.
Even so, the park isn't taking any chances with the new rhinos. Each rhino has its own tracking device, so the park knows where they are at all times. The park also has a team of specially trained dogs to catch poachers, as well as helicopters to keep an eye on things from the air.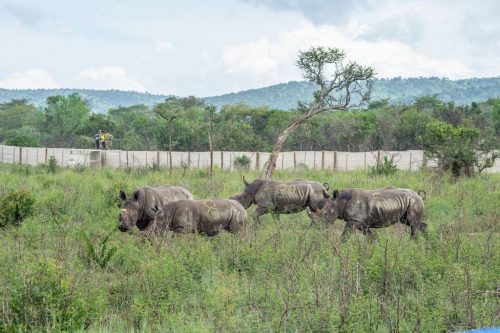 The project organizers are hoping that the numbers of southern white rhinos will go up quickly in this protected setting. They believe that in the future the number of white rhinos in the park could grow to as many as 1,000 or even 1,500.
---
Did You Know…?
The other kind of white rhino, northern white rhinos, are in a terrible situation. There are only two left, and both of them are female. Scientists are working hard to try to figure out a way to keep the species going.
😕
This map has not been loaded because of your cookie choices. To view the content, you can accept 'Non-necessary' cookies.