Mount Semeru, Indonesia —(Map)
Mount Semeru volcano in Indonesia erupted suddenly on Saturday, sending huge clouds of ash and smoke miles into the sky. The falling ash has covered several nearby villages. Hundreds of people have been forced from their homes and at least 14 people have died.
Mount Semeru is an active volcano on Java, the largest island in the island nation of Indonesia. Semeru is the tallest mountain on Java. It has erupted at least 55 times in the last 200 years. Even so, over 60,000 people live in villages along the sides of the mountain.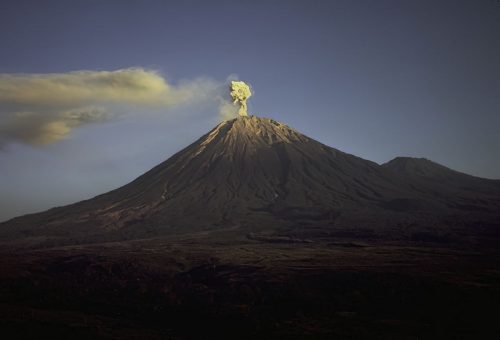 On Saturday, Semeru erupted suddenly, blowing huge jets of ash and smoke about 7.5 miles (12 kilometers) into the sky. A fiery trail of red hot lava flowed down the sides of the mountain, bringing burning hot gases with it. The heavy rainfall mixed with massive amounts of ash to create rivers of thick mud flowing downhill.
At least 14 people in the area have died as a result of the eruption. Nearly 60 people were sent to the hospital with serious burns. At least nine people are missing.
Getting people out of the area was difficult, since the cloud of ash had turned everything dark. "Suddenly everything went dark, the bright afternoon turned into night," said one person who was there. The power had gone out, making things even more complicated. Heavy mud, formed by the ash and rain, took out two bridges which connected the villages.
Thousands of people ran from the area. Over 900 people are staying in temporary shelters set up by the government. But some people refused to leave their homes, saying that they had to protect their property or care for animals. The government continued to work to rescue people who had been trapped.
Eko Budi Lelono is in charge of a station that watches for volcanoes and earthquakes in the area. He says the "dome" of the volcano, which was sealed with lava, was partly worn away by heavy rains. That allowed the pressure built up inside the volcano to be released suddenly in the explosion.
On Sunday, the volcano appeared to be quiet. But scientists warned that the volcano's dome could collapse more, which could trigger another eruption. The government has told airlines to avoid flying near the volcano, and asked people to stay at least three miles (5 kilometers) away from it.
Still, many people returned to their homes to rescue what they could. In some areas, houses, farms, and trees have been burned. Most people found their homes and property covered with a thick layer of mud and ash. Some smaller villages were almost completely buried. Rescuers are still searching for several missing people.
Indonesia is in an area called the "Ring of Fire". This is a large area in Asia where earthquakes and volcanoes are common. There are many active volcanoes in Indonesia. The last time Semeru erupted was in January. That eruption wasn't so powerful, and no one was injured.