Donetsk Oblast, Ukraine —(Map)
Tensions remain extremely high over concerns that Russia might attack Ukraine. Russia has brought more soldiers and military equipment to the border. The United States and Europe say they'll react strongly to any attack, but still hope to solve the crisis through talks.
Concern over Russia's plans has been growing steadily for months. Currently Russia has about 127,000 soldiers on its border with Ukraine. It also has helicopters, tanks, weapons, and other military equipment. Russia says it has no plans to invade, but it's clear that it has spent a lot of money and effort building up its forces on the border.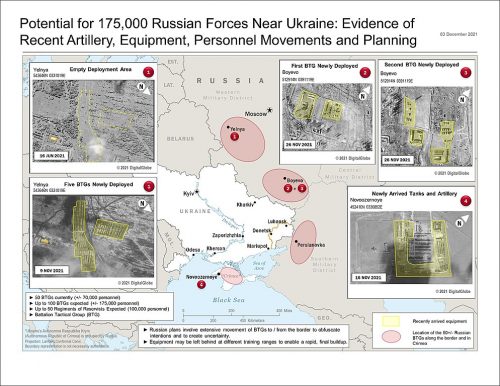 Background: Ukraine and Russia
After World War II, Ukraine was part of the Soviet Union (USSR). The USSR was made of Russia and many smaller countries. Ukraine became independent in 1991, but many people in the country still have close ties to Russia.
Russia has already invaded Ukraine once. In 2014, Russia invaded and took control of Crimea, a peninsula in southern Ukraine. In response, the US and many European countries put sanctions on Russia, but the sanctions haven't had much effect. Also in 2014, two areas of Ukraine close to Russia claimed they were independent. Russia sent military support to these rebel areas. There has been fighting along the border since then.
Western countries – the US and its allies in Europe – are very worried about Russia's plans. Many people believe Russia feels threatened by the power of the West. Ukraine, which used to be part of the same country with Russia, has grown closer to the West in recent years. Ukraine would like to join NATO, a defense agreement between the US and many European countries. That's something Russia wants to prevent.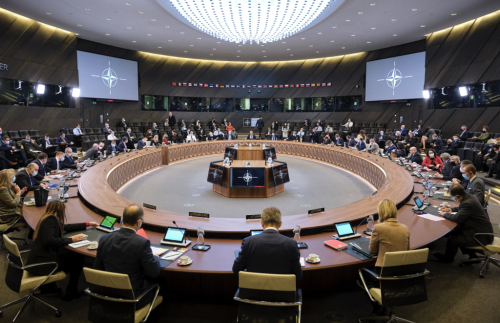 Russia has shown in the past that it's willing to attack other countries and take over land. Many people think Russia is simply looking for an excuse to invade Ukraine. The US and its allies in Europe aren't eager to take part in a war. They have threatened to punish Russia with serious sanctions if it invades.
Recently, several countries have reported secret plans that they believe Russia may be working on. The US has said that Russia is secretly sending people into Ukraine to make it look like Ukraine has attacked rebel areas supported by Russia. That could give Russia an excuse to invade.
😕
This image has not been loaded because of your cookie choices. To view the content, you can accept 'Non-necessary' cookies.
Ukraine's government says Russia has sent over 1,000 paid soldiers who aren't from Russia into the rebel-held areas. The United Kingdom says Russia has plans to create a new government in Ukraine that is friendly to Russia.
There are some very real signs that Ukraine is being targeted. Websites belonging to Ukraine's government were attacked on January 14. The websites were changed to carry messages telling Ukranians, "Be afraid and expect the worst."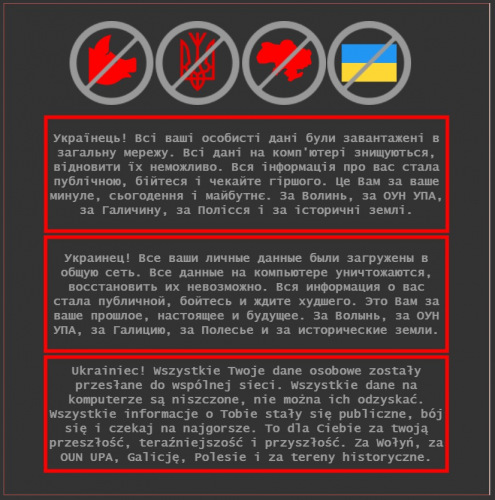 The computer company Microsoft says that the attack didn't just affect websites, but also Ukrainian government computer systems. One possibility is that Russia could increase its cyberattacks on Ukraine, since it's difficult to prove who's behind a cyberattack.
United States President Joe Biden caused some concern when he spoke to reporters last Wednesday. During that meeting, he suggested that if Russia attacked Ukraine in a small way, the US and its allies might have trouble deciding how to respond. Later, Mr. Biden changed his tone, saying there would be a severe response if any Russian soldiers crossed into Ukraine.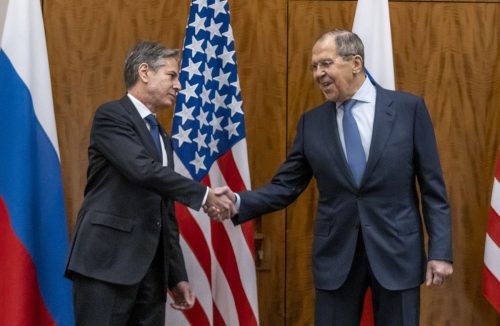 US Secretary of State Anthony Blinken met with Russian Foreign Minister Sergey Lavrov on Friday. The results of the meeting seemed more positive than many other recent meetings. Mr. Blinken reported that the two sides are "now on a clearer path in terms of understanding each other's concerns."
😕
This map has not been loaded because of your cookie choices. To view the content, you can accept 'Non-necessary' cookies.