Worldwide, many groups are pushing governments to protect 30% of the world's oceans by 2030. Today, NFK looks at new marine reserves created by Ecuador and Bangladesh in an effort to protect large areas of the oceans near them.
Ecuador Creates Huge New Marine Reserve
Ecuador has officially created a massive new marine reserve called "Hermandad" (Brotherhood). The reserve adds to Ecuador's large marine reserve around the Galapagos Islands. It also provides a long "underwater highway" which will allow animals to travel in protected waters from Ecuador all the way up through waters controlled by Colombia, Panama and Costa Rica.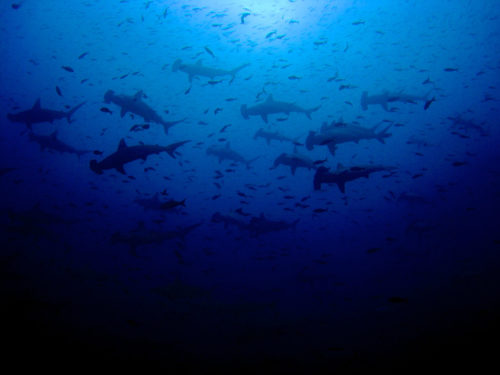 Ecuador President Guillermo Lasso first announced the new reserve at the COP26 meeting in November. The next day, the presidents of Ecuador, Colombia, Costa Rica, and Panama announced plans for a protected pathway connecting ocean areas belonging to the four countries. Colombian President Ivan Duque said that Colombia was also adding 62,776 square miles (160,000 square kilometers) to its "marine protected area" (MPA).
On January 14, Mr. Lasso celebrated the official opening of Hermandad in Galapagos. Mr. Duque and Ex-US President Bill Clinton were there for the event.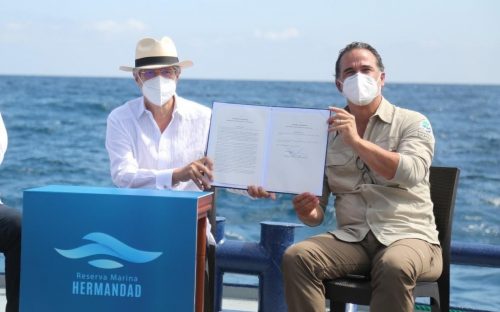 The Galapagos Marine Reserve
The special ocean conditions around the Galapagos attract many larger sea animals which travel through the area as an important part of their migration patterns. This includes groups of special sharks, such as endangered hammerhead sharks and whale sharks
Since 1998, the ocean area around the Galapagos has been protected by the Galapagos Marine Reserve (GMR). At 51,000 square miles (133,000 square kilometers), the GMR was already one of the largest marine reserves in the world.
The Hermandad Marine Reserve adds another 23,000 square miles (66,000 square kilometers) to Ecuador's protected waters. Importantly, this reserve will stretch to Costa Rica's Cocos Island, providing a long, protected pathway for migrating sea creatures.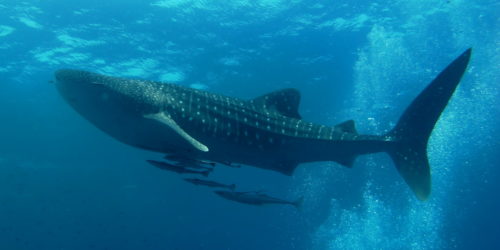 The new area of the reserve will be split into two sections. In one section no fishing will be allowed. Some fishing will be permitted in the other section. But "long line" fishing will be banned. In long line fishing, long lines with hundreds or thousands of hooks catch fish but also other animals like dolphins, sea turtles, sharks, and sea birds.
Bangladesh Creates Large Marine Protected Area
The government of Bangladesh has created a new marine protected area which will protect roughly 673 square miles (1,743 square kilometers) around Saint Martin's Island in the Bay of Bengal.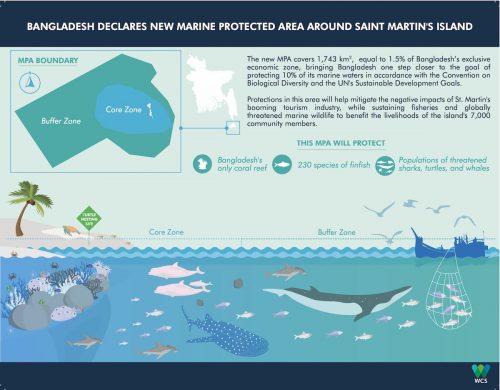 Saint Martin's Island is a coral island, and the new MPA will help protect the country's only coral reef. Coral reefs are hugely important, since they provide homes for all kinds of sea creatures. The new reserve will protect many threatened sea animals, including humpback dolphins, whale sharks, as well as several different kinds of rays and turtles.
Saint Martin's Island, which is home to about 7,000 people, is one of Bangladesh's more popular tourist spots. Though the visitors provide important money for the country, tourist businesses have also been hard on the sea around the island. Roughly 70% of Saint Martin's coral reef has been lost since 1980.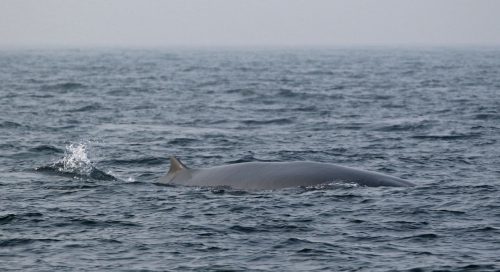 The new MPA will set up new rules for what kinds of fishing are permitted and where. The rules are also expected to set limits on boat traffic. The protected area is about 1.5% of all the ocean that is under Bangladesh's control. The country has a long-term goal of protecting at least 10% of its oceans.
---
Did You Know…?
Last June, Panama made its own marine protected area four times larger. It has already passed its goal of protecting 30% of its oceans.