Ouagadougou, Burkina Faso —(Map)
Members of the military have taken over Burkina Faso in a coup, removing the elected president, Roch Kaboré. Many people in Burkina Faso support the coup. Mr. Kaboré became less popular because he wasn't able to stop attacks on the country by violent Islamic groups.
On Sunday, soldiers took over several army bases in the capital, Ouagadougou. At first the soldiers demanded changes in the military. They wanted the leader of the military removed.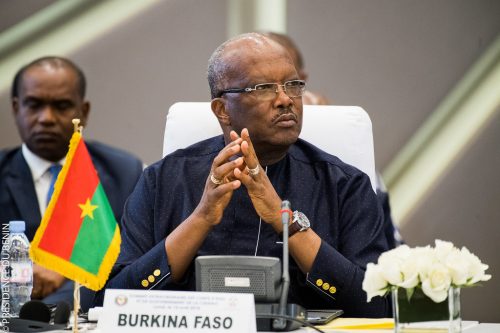 Later, members of the coup began to go after the president. It's not clear exactly what happened, but there was a lot of fighting. By Monday morning, there were reports that soldiers had detained the president without hurting him.
Late Monday afternoon, a group of soldiers appeared on TV, saying they were in charge of the country. The soldiers called themselves the "Patriotic Movement for Safeguard and Restoration", which is shortened to MPSR in French.
They said they had closed the borders, ended Parliament, and suspended the country's constitution. The soldiers said that Lieutenant Colonel Paul-Henri Sandaogo Damiba was now the country's leader.
Most people don't know much about Colonel Damiba. Until 2014, he protected the previous president of Burkina Faso. Then he joined the regular army. Last year, he wrote a book about how West African armies were responding to terrorism. In November, he was put in charge of one of three military areas in Burkina Faso.
After the coup, large crowds came out to celebrate in Ouagadougou and other cities. Later, the MPSR released a note written by Mr. Kaboré, saying that he had resigned.
Mr. Kaboré was popular when he was elected in 2015 and re-elected in 2020. But many people in the country became upset with Mr. Kaboré. The main reason is that he seemed unable to stop attacks by violent Islamic groups.
Burkina Faso is a poor country that is surrounded by five other countries. In recent years, the country has suffered from many attacks by militant groups connected to Islamic State or al-Qaeda. These groups have often crossed into Burkina Faso from nearby Mali or Niger.
Since 2015, over 2,000 people in the country have died in these attacks. Over 1.5 million people have left their homes to avoid the violence.
Members of the military were upset with Mr. Kaboré. They felt like they didn't get the support they needed to deal with these attacks. After an attack killed over 100 people last June, there were large protests against Mr. Kaboré's government.
Coups are not that unusual in Burkina Faso. There have been at least seven other coup attempts since the 1960s. It's also the latest in a string of recent coups in Africa, including coups in Mali, Guinea, and Sudan.
Countries around the world have condemned the coup, and encouraged the military leaders to release Mr. Kaboré.