Melbourne, Australia —(Map)
Wheelchair tennis champ Shingo Kunieda won the men's Australian Open once more on Thursday, beating Alfie Hewett of the United Kingdom. Diede de Groot won the women's wheelchair finals by defeating Aniek van Koot.
This is the 11th time winning the Australian Open for Japan's Kunieda. But the two hours and 12 minute match wasn't an easy one. Kunieda won the first set, but Hewett took the second set. Kunieda came roaring back in the third set to take the prize, 7-5, 3-6, 6-2.
Kunieda seemed to surprise even himself. "I played the best tennis of my career," he said, "Especially in the final set. I don't know how I did it, but I pushed past my limit."
It was a strong comeback after he lost in the semi-finals of last year's Australian Open. But it's probably not surprising, for someone who has won several Paralympic Gold Medals and 26 Grand Slam singles victories.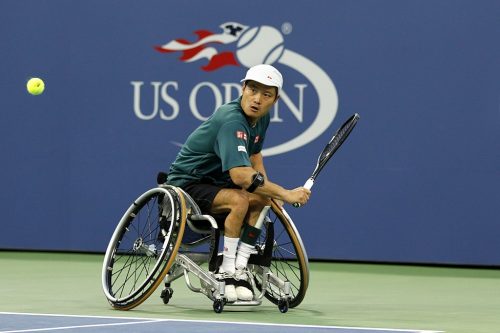 Hewett managed to come out on top in doubles. He and his partner, Gordon Reid, won their ninth Grand Slam title in a row.
In the women's wheelchair finals, it was a contest between two athletes from the Netherlands. From early on, Diede Groot seemed to be in control. Much of the difference in play came from de Groot's strong and steady serve. She made her first serve count 74% of the time.
In the second set, de Groot got out to a 5-0 lead before giving up a game to Aniek van Koot. But it didn't take her long to get back on track, winning the match 6-1, 6-1. The entire match took less than an hour. "I'm super happy," said de Groot. "It's the beginning of the year. I think I've showed everyone that I'm ready for the rest of the year."
It was de Groot's 13th Grand Slam singles title. Last year, de Groot earned a "Golden Slam" by winning all four Grand Slam tournaments, as well as a Paralympic gold.
Playing as partners, de Groot and van Koot won the women's doubles title on Wednesday. The pair have won at least nine Grand Slam doubles titles while playing together.