On Tuesday, the United Nations' weather agency reported on the longest lightning flash ever recorded. The lightning bolt shot through the sky over the US in 2020, crossing three states. It covered a total distance of 477 miles (768 kilometers).
The World Meteorological Organization (WMO), which is part of the UN, reported the record. The flash crossed Mississippi, Louisiana, and Texas. It was 37 miles (60 kilometers) longer than the previous record, which was set in Brazil in 2018. A huge lightning flash like this is known as a "megaflash".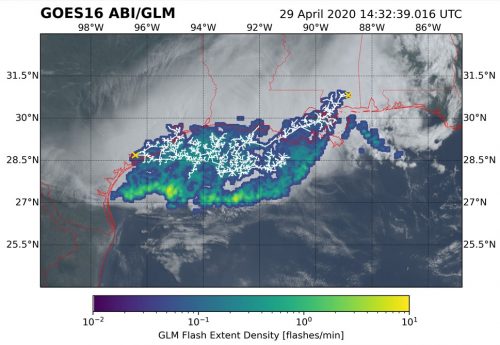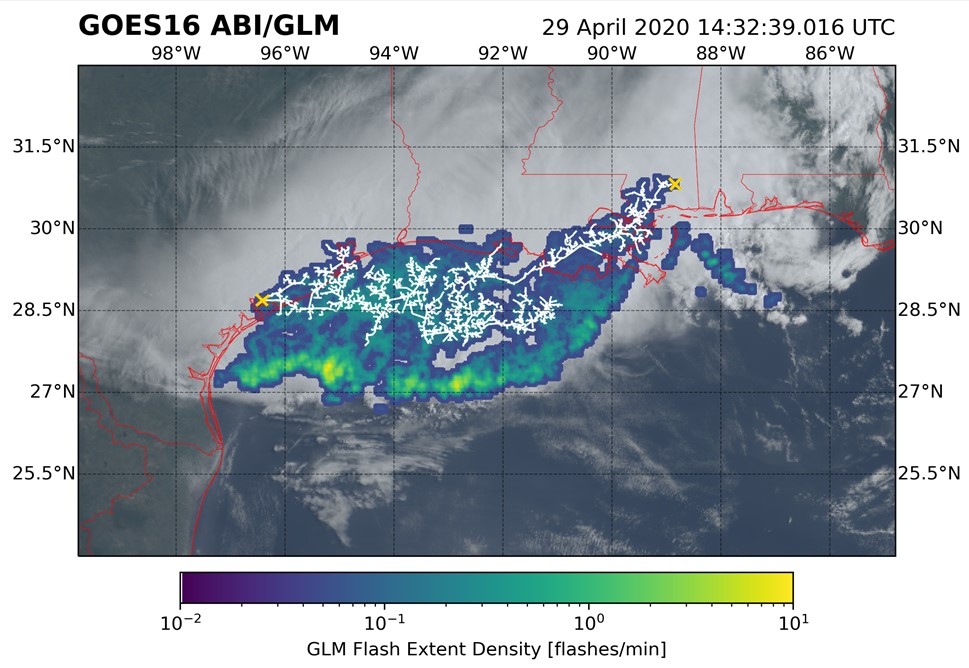 The megaflash took place on April 29, 2020. The lightning never hit the ground, it simply travelled through the sky. The distance is a huge one, but the lightning made the trip nearly instantly. As Clare Nullis, speaking for the WMO, said, "That trip by air[plane] would take a couple of hours and in this case the distance was covered in a matter of seconds."
Every year, there are about 1.4 billion (1,400,000,000) lightning flashes. Most of these are extremely short, lasting about 2/10 of a second. Though humans are most interested in (and worried about) lightning that strikes the Earth, only about 25% of lightning flashes hit the ground. Most lightning, like this record-setting megaflash, remains in the sky.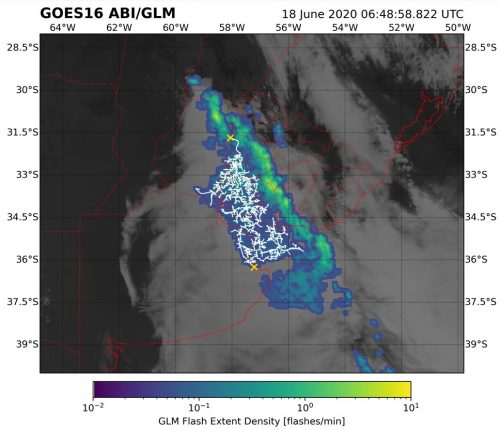 The WMO also reported on another record-setting megaflash. This one covered the skies above Uruguay and northern Argentina on June 18, 2020. The megaflash lasted for over 17 seconds, making it the longest known lightning flash. That barely beat out the previous record, which was also set in northern Argentina.
Both of these records were set in lightning "hotspots", places known for having lots of lightning activity. Though lightning can happen almost anywhere, it is far more common in certain areas.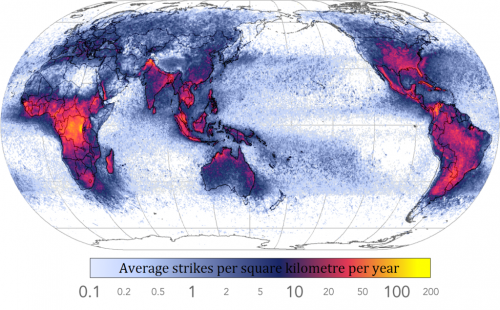 In the past, scientists measured lightning from the ground, but this technology was limited. The recent records were recorded using information from satellites in space. These tools are much more accurate, and allow scientists to study lightning over larger areas.
As part of its report, the WMO warned of the dangers of lightning, which is believed to injure about 240,000 people a year. Though these megaflashes didn't hit the ground, they were both part of larger lightning storms. The WMO points out that the megaflashes are proof that lightning can travel very far very fast.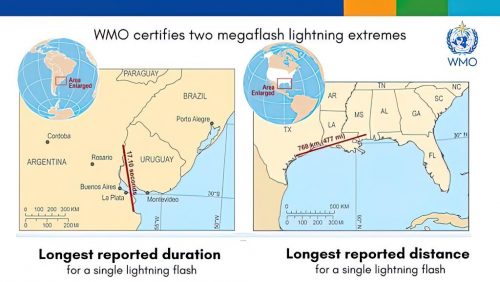 Lightning expert Ron Holle said, "Any time there is thunder heard it is time to reach a lightning-safe place." Lightning-safe places include buildings (with electricity and running water), and metal vehicles that can be completely sealed, like most cars.