Beijing, China —(Map)
Anyone watching the Winter Olympics in Beijing, China over the last few days will have seen lots and lots of snow – man-made snow. Since the area gets little natural snow, this is the first time the Winter Olympics is taking place on almost 100% artificial snow.
This year's Winter Olympics are being held in Beijing, China, and in two areas northwest of Beijing, Yangqing and Zhangjiakou. The areas get cold in the winter, but they don't get a lot of snow. That's because they're not far from the Gobi Desert, and are generally very dry.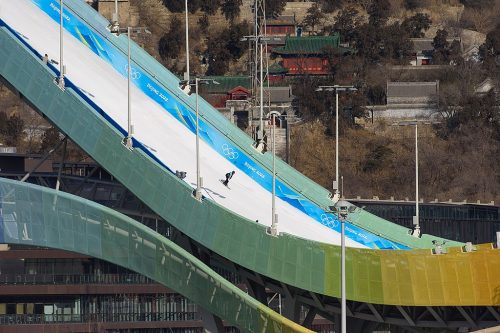 That meant some serious changes were needed to hold the Winter Olympics there. China took water from a reservoir which helps supply Beijing's drinking water and sent it to a nearby river. To carry the water to the mountains for making snow, the country ran miles and miles of pipes.
China says making the snow took about 49,000 gallons (185,500 liters) of water. Outside experts say it probably took a lot more water than that.
China hired an Italian company called TechnoAlpin to create the snow. TechnoAlpin created artificial snow at several earlier Winter Olympics. For the snow in this year's Olympics, TechnoAlpin laid over 40 miles (64 kilometers) of pipe and brought in hundreds of snow-making machines. Even with all of those machines, making the snow for this year's Games took seven weeks.
It's useful to be able to make snow when nature doesn't provide enough. But artificial snow isn't the same as natural snow, which has more air and less water. An athlete used to natural snow might have to adjust their style on man-made snow.
Still, the machines that make artificial snow are quite advanced. They can make several different kinds of snow depending on what's needed for each sport. For example, the snow they make for downhill skiing is different from the snow made for cross-country skiing.
A few athletes have complained about the snow at this year's Olympics. Most others say it's been just fine.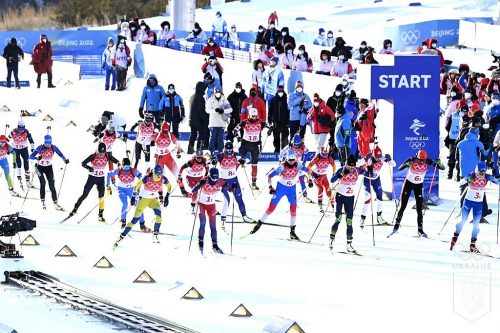 In recent years, it has become more and more common to use artificial snow at winter sports events. That's true even in places that used to have a lot of snow naturally. Some artificial snow was used in the Winter Olympics in 2010 and 2014 because of warm weather. In the 2018 Games in PyeongChang, South Korea, roughly 90% of the snow was man-made.
As the world warms because of climate change, problems like this are expected to become far more common. Michael Mayr, who leads TechnoAlpin in Asia, says, "You could not have winter sports now without man-made snow."
---
Did You Know…?
Producing all that fake snow also uses lots of energy. China says that the snow at this year's Winter Olympics was made with wind and solar energy.