Nairobi, Kenya —(Map)
Last Wednesday, people representing 175 countries reached a historic agreement to tackle the problems of plastic. The deal will lead to a treaty that could help clean up plastic pollution around the world, and even put limits on new plastic in the future.
The new deal is really more of an "agreement to make an agreement". World leaders at the 5th meeting of the United Nations Environment Assembly (UNEA) agreed that by 2024, they would create and sign a new treaty on plastics. The new treaty would create international laws that could help bring plastic waste under control.
Because plastic is useful for so many purposes, it has become a part of nearly all areas of our lives. It's hard to look anywhere without finding dozens of objects made of plastic. Often we don't have to look beyond the clothes we're wearing.
The UNEP (United Nations Environment Program) reports that currently 400 million tons of plastic is produced every year. That's 800,000,000,000 pounds (362,874,000,000 kilograms) of new plastic, yearly. By 2040, that number is expected to double. And even though there's a lot of talk about recycling, only 9% of all the plastic ever created has been recycled.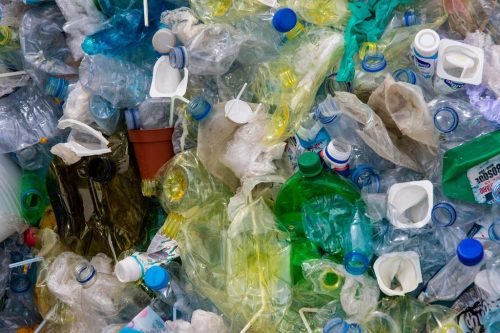 Almost all kinds of plastic are made from some kind of oil. Plastic made in this way releases dangerous gases when it's produced and also when it's burned or buried in the ground. Scientists say plastics are responsible for 4.5% of the world's greenhouse gases – the gases that are driving the climate crisis.
Plastic doesn't "decompose" like natural materials (such as wood). Instead, it just breaks into smaller and smaller pieces. And as the plastics filling our world break down, they create a new problem – microplastics.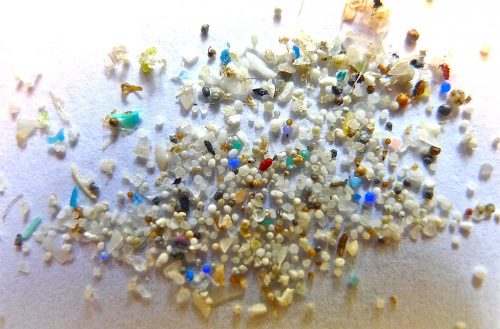 Microplastics are tiny bits or threads of plastic, often too small to be seen. In recent years, microplastics have been found almost everywhere, from the North pole to Antarctica, from the top of the Earth's tallest mountain to the deepest point in the sea. They've even been found in the bodies of animals including humans.
The new agreement is expected to cover the whole plastic "life cycle", including making it, re-using it, recycling it, and getting rid of it. The treaty will also have to cover how to deal with microplastics in the oceans, on land, and in the things we eat. The agreement is also expected to lay out rules designed to get rid of single-use plastics.
Reaching the current agreement wasn't easy. It was based on ideas put forward by Rwanda and Peru, and required many countries to adjust their positions.
The next step – deciding on the specific rules and goals that will go in the new treaty – will probably be even more difficult. The final agreement is likely to require all countries to take their own steps to meet the treaty's goals. The final version of the treaty will probably offer poorer countries money to help them meet the goals.
Even though the new treaty doesn't exist yet, many people think what happened last Wednesday is the most important environmental agreement since the 2015 Paris Agreement, which was designed to tackle the climate crisis.