Since early April, climate protesters have blocked roads, buildings, and oil storage areas. The protests are meant to bring attention to the climate crisis. The protests have made the news, but it's not clear if they're changing people's minds.
Over the last few weeks, several groups, including Extinction Rebellion, Scientists Rebellion, and Just Stop Oil, have launched repeated protest efforts in locations around the world.
The goals of these groups are similar to the goals of the student-led climate strikes inspired by Greta Thunberg. All of the groups want governments and companies to admit that there is a climate emergency and take strong action right away.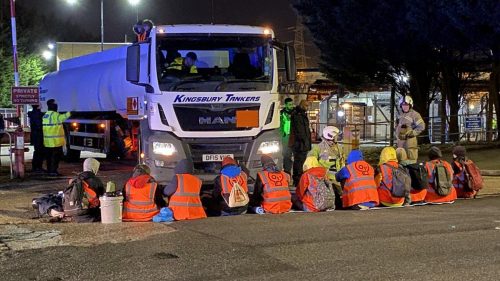 But the way these groups protest is very different from student climate strikes.
The protests are peaceful, but they're designed to interrupt normal life and to cause problems that force people to pay attention. For example, last Friday, Extinction Rebellion protesters blocked traffic on four of London's busiest bridges.
The protesters don't just hold up signs at their protests. Instead they use their bodies to block entrances. To make it harder for police to remove them, protesters lock themselves to doors, gates, and heavy equipment. Some protesters glue their hands to important buildings or machines so it will take a long time to safely remove them from the area.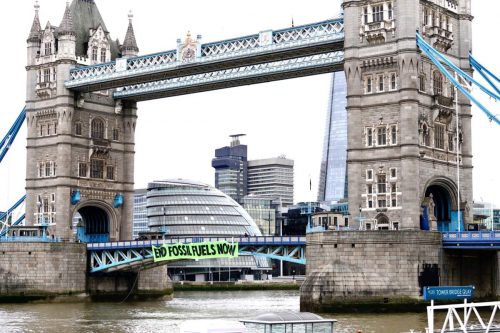 The recent protests were planned to focus attention on a new UN report on the climate crisis.
In the United Kingdom, protesters from Extinction Rebellion and Just Stop Oil blocked important fuel storage stations across England. Their goal was to make nearby gas (petrol) stations run out of fuel. Some famous people, including Olympic athletes, took part in the protests.
The protesters also targeted businesses that support fossil fuel companies. On April 12, Extinction Rebellion protesters blocked the entrances to the main offices of Lloyds of London. The protesters want the company to stop insuring fossil fuel projects.
😕
This image has not been loaded because of your cookie choices. To view the content, you can accept 'Non-necessary' cookies.
In early April, thousands of scientists from Scientist Rebellion took part in similar protests in 25 countries around the world. The group is like Extinction Rebellion, but its members are scientists. The group's members hope that when people see scientists taking extreme protest actions, they will begin to understand how serious the climate crisis is.
In the US, scientists chained themselves to the White House fence, and blocked a major highway in Washington, DC. In California, scientists chained themselves to the JPMorgan Chase bank building. They want the bank to stop supporting fossil fuel projects.
Dr. Peter Kalmus, a scientist at NASA, made an emotional speech while he was chained to the bank's door. A video of his speech spread widely on the internet. Dr. Kalmus said he felt like he had to protest because, "…scientists are not being listened to."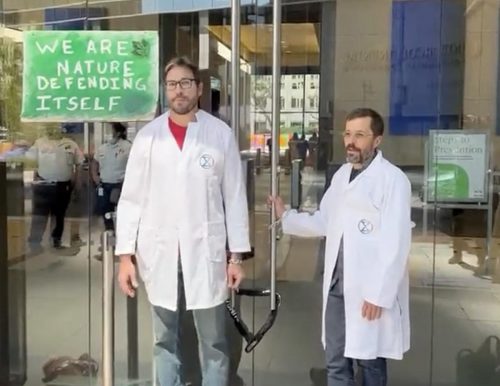 Many people are annoyed by the protests held by these groups. Critics say the protests don't work, since they upset people instead of encouraging them to take action.
But these groups say that without the protests, the problems are too easy to ignore. Dr. Kalmus says, "I feel like I'm actually, finally, starting to be heard – probably, really, for the first time."