Fighting Starts Again in Ethiopia, Breaking Cease-Fire
Fighting has begun again in Ethiopia. After a five month cease-fire, fighting broke out between government forces and the rebels of the Tigray Defense Force (TDF) on Wednesday. Both sides accuse the other of starting the attacks, which took place on the border of the Tigray region.
Most of the fighting had stopped after a cease-fire was reached last March. The cease-fire allowed emergency food aid to reach the Tigray region. The World Food Program says almost half of Tigray's six million people are in severe need of food aid.
😕
This image has not been loaded because of your cookie choices. To view the content, you can accept 'Non-necessary' cookies.
Ethiopia and Tigray
Ethiopia is made up of many different "ethnic groups" – people with different histories and backgrounds. The people in Tigray are mainly from the Tigray ethnic group. They used to be heavily involved in Ethiopia's national government. But since Ethiopian Prime Minister Abiy Ahmed took over in 2018, Tigray people haven't had much control in national politics.
For 17 months before the truce was reached, there had been a brutal war in Tigray. Soldiers from Ethiopia and nearby Eritrea fought against the rebels. Thousands of people were killed. There were reports of horrible violence by soldiers from all sides.
In recent weeks, each side accused the other of causing problems in the peace talks. Antonio Guterres, the leader of the United Nations, said he was "shocked and saddened" by the new fighting. Groups that work to bring aid into the region are worried that the fighting could cause many people to starve.
President Biden "Forgives" Up to $10,000 of College Loans
Millions of Americans won't have to pay back some of the money they borrowed for college. That's because of a plan that US President Joe Biden announced on Wednesday. Under the plan, up to $10,000 of student loans would be "forgiven", meaning they don't need to be paid back. Some people who needed extra help paying for college will get up to $20,000 forgiven.
😕
This image has not been loaded because of your cookie choices. To view the content, you can accept 'Non-necessary' cookies.
Going to college in the US can be very expensive. That's especially true at private universities. As a result, it's very common for people to borrow the money they need to go to school. But after they graduate, many people have a hard time earning enough money to pay back everything they owe. About 43 million people in the US owe money for student loans; 28 million owe more than $10,000.
The new plan is designed to make life easier for these people. That was something that Mr. Biden promised when he was running for president. The plan doesn't cover people who make $125,000 a year or more.
Republicans have attacked the plan, saying it's unfair to people who have already paid back their loans. They also say that it ignores people who didn't go to college. The plan is likely to be challenged in court.
US Army Drone Ends Record 64-Day Flight
The US Army says that its solar-powered Zephyr 8 drone has set a record by flying for 64 days straight. The drone, which was made by the French company Airbus, is powered by solar panels on its wings.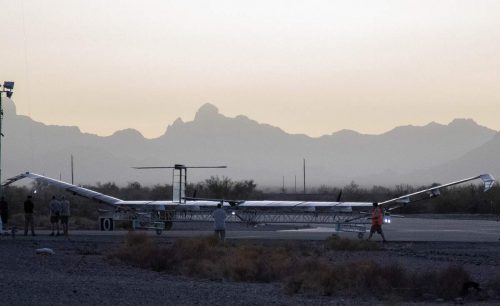 The drone was launched from Yuma, Arizona on June 15, and climbed to over 60,000 feet (11.3 miles/18.3 kilometers) above sea level. It traveled more than 34,500 miles (55,520 kilometers), flying over the southwest US, the Gulf of Mexico, and South America.
The Army says the end of the flight wasn't expected, which suggests that the drone crashed. Even so, the Army says the new record is more than twice as long as the old record (26 days).