Addis Ababa, Ethiopia —(Map)
Last November, Ethiopia's government attacked Tigray, the country's most northern state. A year later, the fighting is more brutal than ever. Many people worry that the war will keep growing, leaving Ethiopia and nearby countries more dangerous and less stable.
Ethiopia and Tigray
Ethiopia is made up of over 80 different "ethnic groups" – people with different histories and backgrounds. The people in Tigray are mainly from the Tigray ethnic group. In the past, much of the way the country was run was based on these ethnic groups. Historic problems between these groups play a big part in Ethiopia's current problems.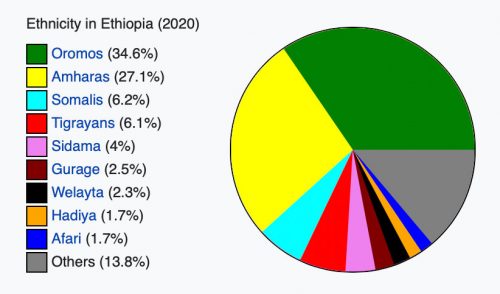 The Tigray People's Liberation Front (TPLF) is both a political party and a military group.* For years, the TPLF ruled Ethiopia harshly. That made Tigrayans very unpopular with people from other ethnic groups. After Ethiopian Prime Minister Abiy Ahmed came to power in 2018, he began taking power away from Tigrayans in the government.
When the government attacked Tigray last November, Mr. Abiy said the attack was in response to the TPLF attacking an Ethiopian army base.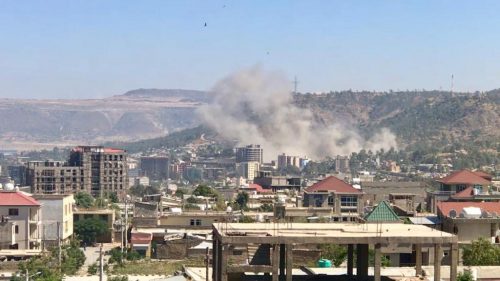 Mr. Abiy said the fighting would be over quickly and wouldn't grow into a larger conflict. It didn't turn out that way. The growing conflict has already caused terrible problems, which could soon become even worse.
The war has made life in the country extremely hard. Thousands of civilians have been killed, around two million people have been forced from their homes, and hundreds of thousands of people are dangerously short of food.
😕
This image has not been loaded because of your cookie choices. To view the content, you can accept 'Non-necessary' cookies.
The war has caused great fear in many parts of the country. There are many serious reports of horrible violence by soldiers from all sides. Much of the violence has been serious enough to be called "war crimes".
Now it is looking like Ethiopia's army may be facing a difficult time ahead. The TPLF have taken control of some important cities recently and are moving toward the capital, Addis Ababa.
The TPLF are also trying to cut off an important road that connects the country to the port in Djibouti. Since Ethiopia is surrounded by other countries, this road is the country's main way of getting supplies by sea.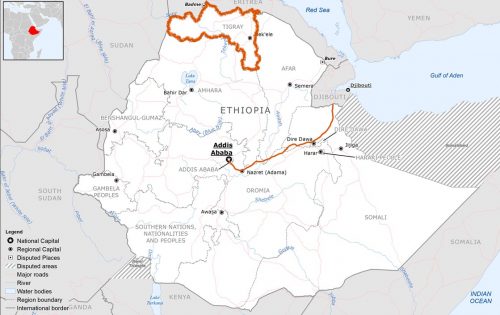 Ethiopia's government has declared a six-month state of emergency. Mr. Abiy has called on ordinary people in the capital to fight against any TPLF attack.
The war has already made the area around Ethiopia less stable and many people are afraid it will soon get worse. Already, several nearby countries have played small parts in the war.
With so many people left homeless and starving, nearby countries are also seeing huge numbers of refugees trying to get away from the violence in Ethiopia. These countries could soon have far more refugees than they can handle.
😕
This image has not been loaded because of your cookie choices. To view the content, you can accept 'Non-necessary' cookies.
Ethiopia used to be a country that helped keep the region stable. Now there are concerns that if Ethiopia doesn't have a stable government, the area could possibly become a source of terrorism.
Groups from outside the country are working to encourage an end to the fighting. The United Nations (UN) has called for a ceasefire. So have many countries. United States President Joe Biden has threatened Ethiopia's government with sanctions if it doesn't end the fighting.
Experts say both sides are so focused on the fighting that it will be hard to get them to find a peaceful solution through talks.
* The military part of the TPLF is known as the Tigray Defense Force (TDF).
😕
This map has not been loaded because of your cookie choices. To view the content, you can accept 'Non-necessary' cookies.