The US government has approved a new purple tomato for growing and selling in the US. The special kind of tomato was created by making changes to its DNA. The creators say the tomatoes will last longer and could help make people healthier.
British scientist Cathie Martin has been working on developing purple tomatoes for years. Though the color is unusual, what's really special about the tomatoes is that they have very high levels of antioxidants.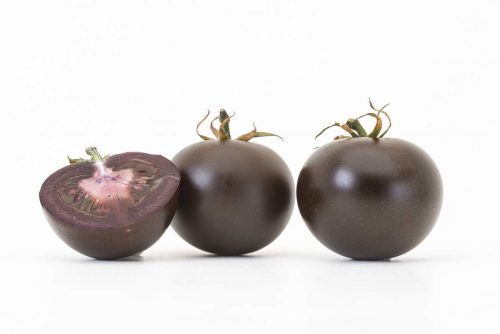 Antioxidants are found naturally in plants like blueberries, blackberries, and red cabbage. Scientists believe antioxidants may help prevent heart disease and help fight against diseases like diabetes. But tomatoes naturally only have a small amount of antioxidants in them.
Dr. Martin wanted to see if she could create tomatoes with lots of antioxidants by changing the DNA of a tomato plant.
DNA & Genes
DNA is a tiny collection of information and instructions stored in a chemical form. Just like computer code tells a computer what to do, DNA tells cells, the building blocks of living things, what to do. Every living thing has DNA that causes it to grow in a certain way.
Small bits of DNA, called "genes", work to control different parts of how a living thing grows. For example, humans have genes that control eye color.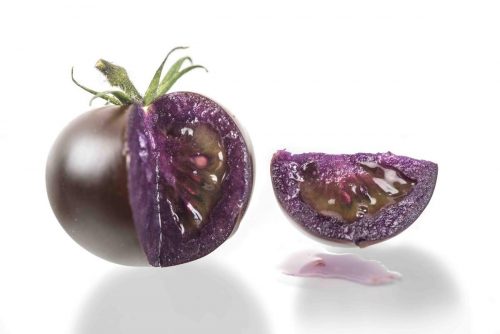 A plant developed from specially created DNA is known as a GMO, or "genetically modified organism". For hundreds of years, farmers have created new kinds of plants by mixing existing plants together using natural methods. GMO plants are different because the plants' DNA has been changed by scientists. Scientists who do this usually think they're improving the plants in some way.
Dr. Martin's experiment worked. She added two genes from a plant called a "snapdragon". Soon her plants were producing small purple tomatoes with lots of antioxidants.* Even better, the tomatoes remained fresh almost twice as long as normal tomatoes. Soon, Dr. Martin and other scientists created a company to promote the tomatoes.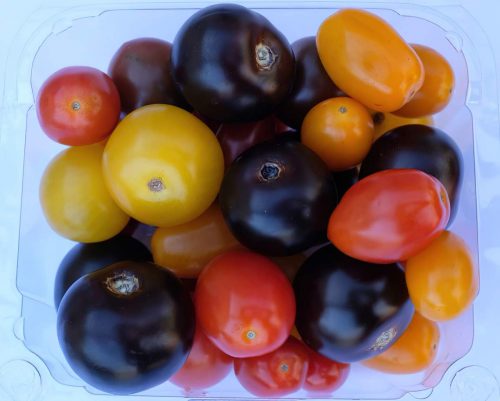 The company tested its tomatoes on mice that were likely to get cancer. The mice who were fed the purple tomatoes lived about 30% longer than mice who were fed normal tomatoes. Though that's good news, experiments on mice don't always predict what effects on humans will be like.
In recent years, Dr. Martin and her company have been working with the USDA (United States Department of Agriculture) to get permission to grow and sell the purple tomatoes in the US.
GMOs were first allowed by the USDA in the late 1990s. But GMO products weren't popular with customers. Many people were scared by the idea that the foods weren't "natural". There are still questions about the effects of GMO crops on the environment and other plants, but most scientists agree that food from GMO crops is safe to eat.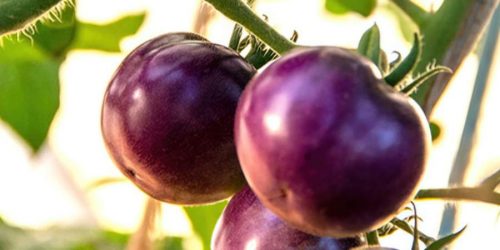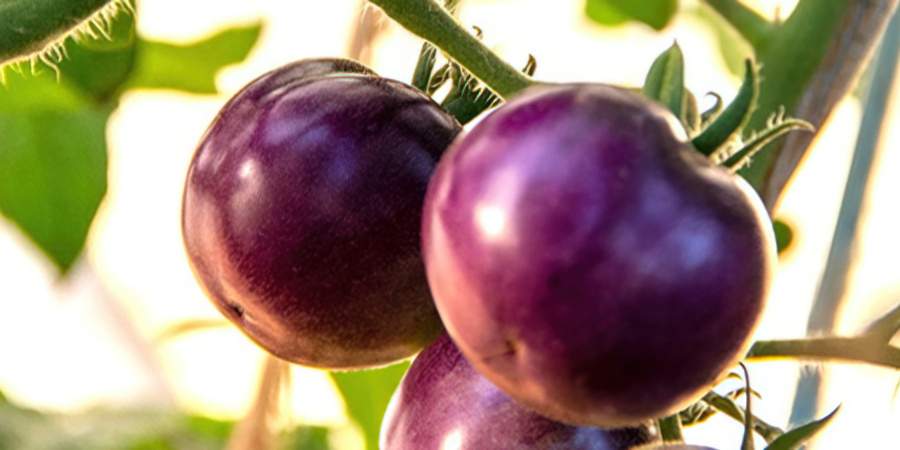 Even so, many people have concerns about them. Because of these concerns, most GMO products created over the last 20 years have focused on helping farmers rather than appealing to customers. Now over 90% of important crops like corn and soy beans grown in the US are GMOs. GMOs help farmers grow more, and avoid losing crops to pests like insects.
On September 7, the USDA approved the purple tomatoes. Dr. Martin says it's the first time the USDA has approved a GMO plant designed to target human health.
Dr. Martin and her company plan to introduce the tomatoes at farmers markets across the US in 2023. They also hope to sell the seeds to people who want to grow their own.
---
Did You Know…?
Dr. Martin thinks the beautiful color will be something that lots of people will like. She says the color and the antioxidants will remain, even when the tomatoes are used for other products, such as tomato juice, tomato sauce, or ketchup.
* The purple tomatoes produce a special kind of antioxidants called anthocyanins.