Candy Prices Take a Scary Rise Before Halloween
Halloween is next Monday, and some people might find it even scarier than usual. That's because candy prices have risen about 13% since last year, meaning a $10 bag of candy will now cost about $11.30.
In the United States, more candy is sold around Halloween than any other time of year. Experts say Americans will spend roughly $3.1 billion on candy this Halloween. But they're going to be getting a lot less candy for their money.
Like the prices of many things, the price of candy has risen. That's mainly because other costs have gone up. For example, the cost of sugar has gone up by 17%.
😕
This image has not been loaded because of your cookie choices. To view the content, you can accept 'Non-necessary' cookies.
Most candy makers are simply passing the extra costs on to customers. Some are doing it by raising their prices. Others are doing it by selling smaller amounts of candy for the same price. It's a spooky Halloween when even the treats are tricky.
Teenager Wins Florida's Python-Hunting Contest
Matthew Concepcion, 19, won the $10,000 grand prize in the 2022 Florida Python Challenge by catching 28 pythons. The state runs the hunting contest every year to remove invasive Burmese pythons. Mr. Concepcion was one of 997 hunters taking part in the 10-day contest. To catch that many pythons, Mr. Concepcion slept during the day, and hunted at night.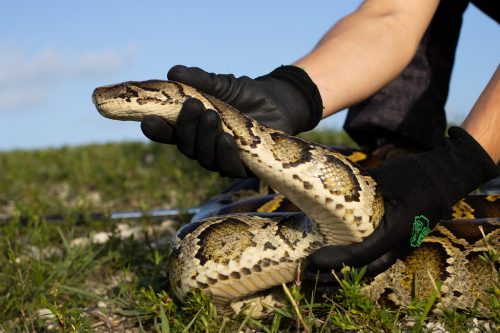 The snakes, which can grow as long as 20 feet (6 meters), are originally from Asia. They were brought to Florida as pets, but some escaped or were released. The snakes do very well in the Everglades, Florida's special wetlands area.
The first Burmese python was seen in the wild in Florida in 1979. Now there are tens of thousands of them. The US National Park Service says the pythons are the biggest threat to mammals in the Everglades. Because of the pythons, rabbits, foxes, and raccoons have almost completely disappeared from the southern part of Everglades National Park.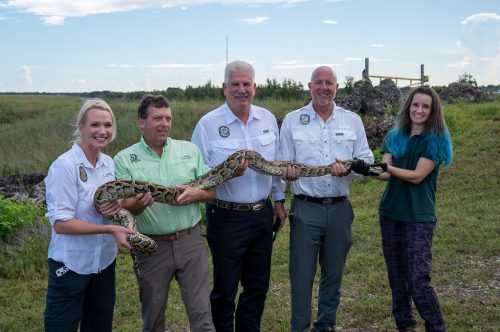 In all, the contest got rid of 231 Burmese pythons. Dustin Crum won $1,500 for catching the largest one, which was a little over 11 feet (3.4 meters) long. Mr. Crum won the same prize last year with a snake that was 15 feet, 9 inches (4.8 meters) long.
Thousands of Sheep Cross Through Downtown Madrid.
Last Sunday, over a thousand sheep and about 200 goats paraded through the streets of downtown Madrid, Spain. "It was crazy that there were so many sheep, I've never seen anything like it," an American English teacher told Reuters.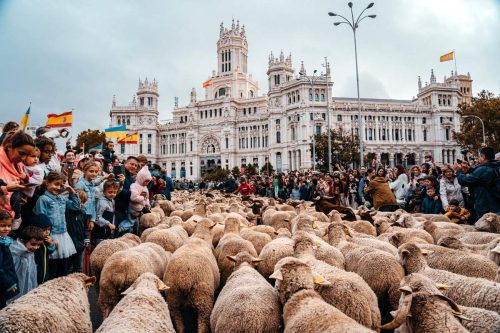 The animals were part of a festival called Transhumance. Transhumance means moving herds of animals that eat grass from one area to another. Shepherds need to take their animals from their summer fields to someplace warmer for the winter.
Long ago, shepherds would guide their flocks through these same areas. Back then, they weren't busy city streets. As Madrid grew, shepherds were no longer able to use the same paths they had in the past.
But since 1994, Spain has allowed moving sheep through the city's capital as part of the festival. The event is popular with local people and tourists, and it helps keep old traditions alive.