First Private Rocket Launched in India
Last Friday, India's first private rocket, Vikram-S, was launched into space. India's government has long had a space program. It was the first Asian country to send a spacecraft to Mars. But in 2020, the government agreed to allow private companies to also develop space technology.
The Vikram-S was built by a company called Skyroot Aerospace. It stands 10 feet (6 meters) tall and weighs about 1,200 pounds (545 kilograms). The rocket is named for Vikram Sarabhai, who helped start India's space program.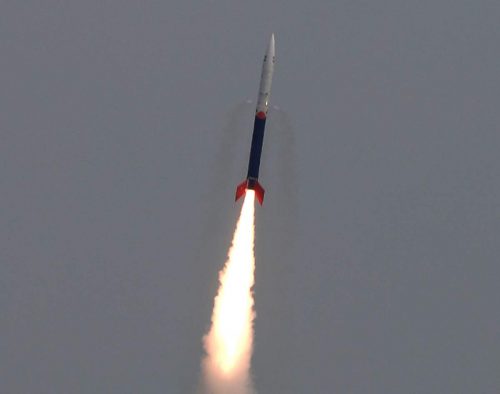 The rocket reached a height of over 55 miles (89 kilometers) above Earth – slightly higher than expected. After roughly five minutes, the rocket splashed back down into the Bay of Bengal. Pawan Kumar Chandana, one of the people who started Skyroot said, "We made history today by launching India's first private rocket. It is a symbol of new India."
There is huge interest in sending things into space these days. Many companies around the world are competing for that business. Skyroot plans to begin taking satellites into space starting next year. The company believes its rockets will be cheaper than those of most other companies offering similar services.
Uganda And Zimbabwe Send Satellites Into Space
Uganda and Zimbabwe have sent their first satellites into space. The satellites were launched by a NASA rocket on November 7, and are now on the International Space Station. They will later be put in orbit around the Earth. The satellites were developed by the countries, working together with Japan as part of a project called BIRDS-5.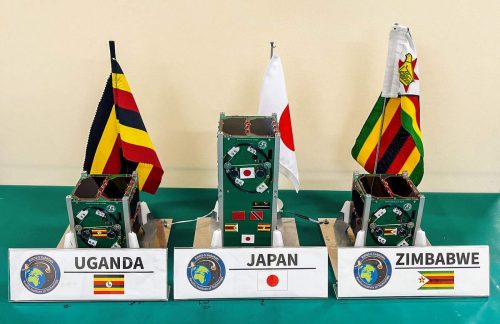 The satellites are small ones known as CubeSats. CubeSats are cheap and small – about a third of the size of a loaf of bread. Several CubeSats can be joined together to make larger satellites.
Uganda's satellite is called PearlAfricaSat-1, and Zimbabwe's satellite is known as ZimSat-1. They were built by scientists from Uganda and Zimbabwe, working together with scientists at the Kyushu Institute of Technology. The satellites are designed to help the countries keep an eye on the quality of their water and farmland.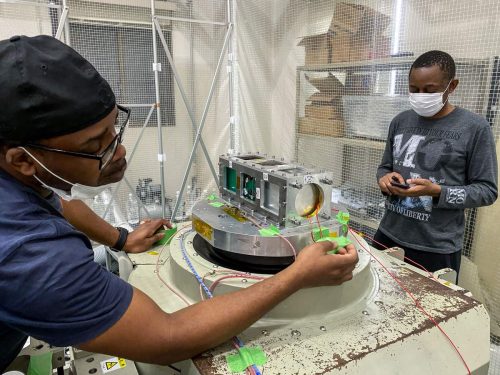 Because CubeSats are cheap, they're a good way for developing countries to begin their space programs. Currently 14 African nations have sent a total of 52 satellites into space. By 2025, those numbers are expected to grow, with 23 African countries planning up to 125 new satellites.
NASA's Orion Mission Reaches, and Passes, the Moon
After a week, NASA's Orion spacecraft has reached the moon, and gone past it. The capsule, which was launched on November 16, seems to be working nearly perfectly. NASA reported that all of the systems it has been testing have worked as well, or better, than expected.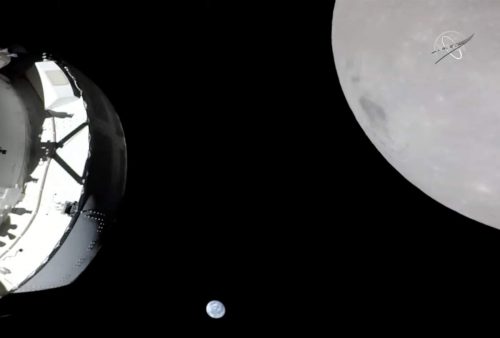 Orion sent back several pictures as it passed the moon. One of them shows the moon up close, and the Earth as a tiny spot in the distance.
Orion will spend about a week far beyond the moon. That will give NASA's scientists plenty of time to run more tests on the spacecraft's systems. Orion will then come past the moon once more on its way back to Earth. The capsule is still expected to splash down around December 11.