Mexican President Holds Massive March of Supporters
On Sunday, hundreds of thousands of people marched through the streets of Mexico City. The march was meant to show support for Mexican President Manuel López Obrador. Just two weeks earlier, Mexico's opposition held a march against the president. Tens of thousands of people joined that protest.
Mr. López Obrador was elected in 2018. He remains very popular, and over 60% of Mexico's people approve of the job he's done.
But many people are also upset with Mr. López Obrador. He has struggled to keep some of the promises he made when he was running for president. He has also been criticized for changes he hopes to make in the way the country's elections are run. Many people believe the changes would give too much power to Mr. López Obrador's party, Moreno.
Thousands of people came from hundreds of miles away for Sunday's march. Many came in groups organized by unions and local governments. Opposition leaders claimed that some people were forced to take part in the march.
The march was meant partly as a show of strength for Mr. López Obrador and his party before the country's 2024 election. Mr. López Obrador isn't allowed to run again, but if his party wins, he's still expected to have a lot of power.
First All-Female Referee Team Works Men's World Cup Match
When Germany played Costa Rica at the Men's World Cup yesterday, the three main referees were women. It was the first time an all-female team of referees has worked a Men's World Cup match.
The team was led by Stéphanie Frappart, a 38-year-old referee from France. Ms. Frappart has been refereeing soccer (football) for 20 years. She refereed her first professional men's game in 2014. She has worked as a referee in Ligue 2, Ligue 1, the Champions League, and the UEFA Super Cup. In 2019, she refereed the final of the Women's World Cup.
Ms. Frappart was joined by Neuza Back of Brazil and Karen Diaz Medina of Mexico. They are three of the six female referees working this year's World Cup. Ms. Frappart says she wants to be judged for her skill, not because she's a woman. "The football is the same. The rules are the same," she said. "It's no longer a surprise to see females refereeing men's games."
United Nations Celebrates France's Baguettes
Baguettes, the long, thin bread loaves loved in France, have made it onto a special United Nations (UN) list. The UN's "Intangible Cultural Heritage" list is a list of items that are extremely important to history and culture in different places around the world.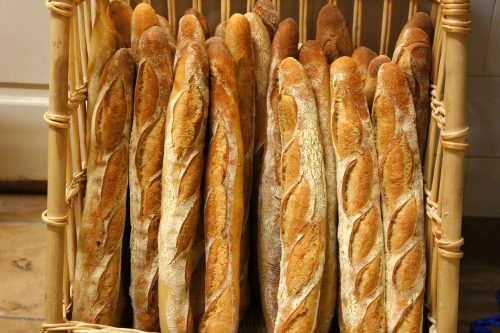 France sells over six billion baguettes every year. Though they contain just flour, water, salt, and yeast, baguettes can be tricky to make. The loaves must be crunchy on the outside, but light and fluffy on the inside. In recent years, many small, older bakeries in France have gone out of business.
The UN says baguettes are an important part of French life, with people sharing them during daily meals across France. The group says it's important for the knowledge of how to make baguettes to "continue to exist in the future."