Scientists have shown that humans appear to have an ability to understand the signs of apes. The result is a little surprising, since most people haven't spent much time at all with apes.
Humans use words to talk to each other. But we also point, nod, and use our hands to show what we mean. We've been doing this for tens of thousands of years.
Apes have their own system of gestures (special movements or signs) to show what they mean. Chimpanzees and bonobos are two kinds of apes that are closest to humans.
They use about 80 different gestures to show what they mean. For example a gesture the researchers call "big loud scratch" means "help pick insects off of me".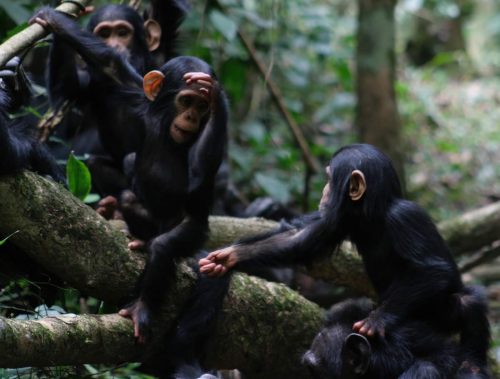 Scientists have learned the meanings of these gestures by studying chimpanzees and bonobos for years. Though the two groups of apes use different signs in a few cases, they share over 90% of the same gestures.
Scientists have studied how apes use gestures. But until now, no one had studied whether humans could understand the gestures of apes.
Researchers Kirsty Graham and Catherine Hobaiter at the University of St. Andrews decided to test this idea. They wanted to see if humans with no training or experience could understand the gestures of chimpanzees and bonobos.
The researchers created a game for people to play online. The game was simple. People watched short videos of apes making a gesture. Then they had to choose the correct meaning of the gesture out of four possible answers.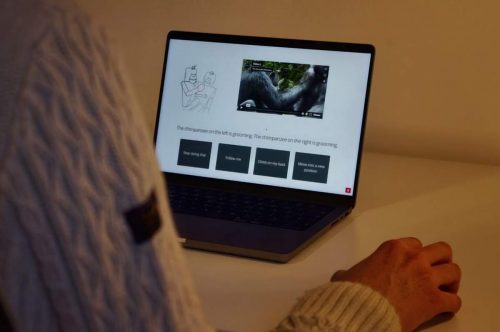 For the videos, the researchers chose 10 of the most common gestures used by chimpanzees and bonobos. Thousands of people played the game.
The researchers were surprised to find that people were able to choose the correct meaning of the gestures over 50% of the time. That's twice as good as people would be expected to do by chance.
For some of the gestures, people were able to choose the correct meaning about 80% of the time. One example of this was the gesture of wiping the mouth, which people correctly guessed meant "give me that food".
The scientists believe that humans may have a natural ability to understand the gestures of apes. But it's not clear why.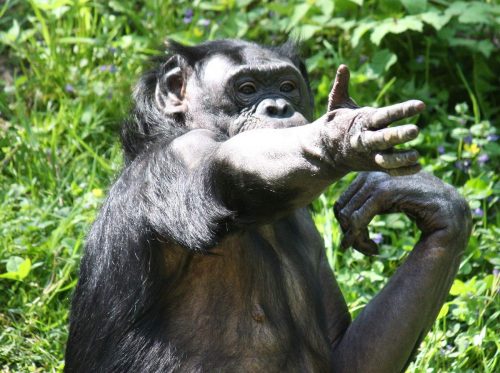 Humans and other apes all developed from an earlier kind of ape that lived long ago. One possibility is that the body language of these gestures has been passed down from this shared ancestor.
Dr. Graham says these gestures are used by all kinds of great apes "If humans understand them," she told CNN, "Then it seems like a great ape gesture ability that would have been used by our last common ancestors."
Another possibility is that the gestures are a natural result of humans and apes sharing similar body shapes and needing to communicate similar ideas. It's also possible that the gestures simply look like the actions they are requesting.
The researchers say that they need to study how humans are able to understand the gestures of apes. They're also curious about how humans understand other animals, like dogs.