Strong protests have rocked France, Israel, and Mexico in recent weeks. In each country, the protests have different causes, but all of the protests have been triggered by unpopular government plans.
Protests in France Over Retirement Plans
Massive strikes and protests on Tuesday nearly shut down Paris and several other large cities. Workers are protesting over President Emmanuel Macron's plan to raise the age at which French workers can retire.
Currently French workers can retire at 62. Retired workers collect a pension from the government. Mr. Macron says there won't be enough money to pay pensions unless the retirement age is raised to 64. But raising the retirement age is very unpopular with voters.
On Tuesday, over a million people took part in more than 250 protests across the country. Strikes by workers led to canceled planes, trains, and buses. Some schools were closed, and in some places, workers blocked fuel from being delivered to gas (petrol) stations.
😕
This image has not been loaded because of your cookie choices. To view the content, you can accept 'Non-necessary' cookies.
It was the sixth large strike of the year. More strikes and protests are expected.
Protests in Israel Over Planned Change to Courts
Since early January, Israel has been rocked by huge weekly protests involving hundreds of thousands of people in locations across the country. The protesters are upset about a government plan to change the country's court system.
Ex-Prime Minister Benjamin Netanyahu became Israel's prime minister once more last year after putting together a coalition of far right political parties.
Now his government is pushing a plan that would limit the power of Israel's Supreme Court and greatly increase the power of its Knesset (Parliament). The new plan would also make it easier for the current government to choose new judges.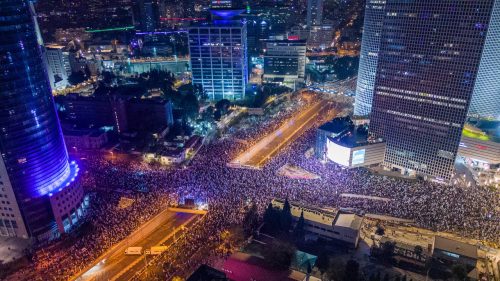 Protesters say the plan upsets the balance of Israel's system of government. They also say Mr. Netanyahu can't be trusted to handle decisions about courts fairly, since he is on trial for corruption.
This week, the protests began to spread to some members of the country's military reserves, with some highly-skilled pilots refusing to fly. Huge protests were expected again on Thursday.
Protests in Mexico Over Law Weakening Voting Agency
On February 26, over 100,000 people across Mexico came out to protest a new law that made the government agency in charge of Mexico's elections much weaker.
The INE (National Electoral Institute) is a government group in charge of organizing Mexico's national elections. Before the INE was created, Mexico was ruled by one political party for decades.
😕
This image has not been loaded because of your cookie choices. To view the content, you can accept 'Non-necessary' cookies.
Mexico's president, Andrés Manuel López Obrador, says the INE hasn't played fairly in recent elections. He says the new law will save the country millions of dollars.
The new law cuts money for election offices and training for election workers. Many voters believe that weakening the INE will give Mr. López Obrador and his political party too much power.
In Mexico City, so many people came out to protest that they didn't all fit in the city's main square, which normally can hold about 100,000 people. Many of the protesters wore pink and shouted, "Don't touch my vote!"
Protesters are now hoping that the country's Supreme Court will stop the new law. Mexico's next election for president is in 2024.
---
Did You Know…?
There were also massive protests in Greece on Wednesday, almost bringing the country to a complete stop. The huge crowds and strikers were protesting over a train crash that happened on February 28. Two trains crashed into each other, killing nearly 60 people.