Scientists have found that floating solar panels could provide a huge amount of electricity if they were placed on lakes and other bodies of water around the world. Floating solar panels could also help save water and protect land.
Solar panels – also known as "photovoltaic" panels – are used to turn sunlight into electricity. Most solar panels are placed on land in large collections called solar farms. But recently people have begun to explore putting floating solar panels on water. Because these panels float, some people call them "floatovoltaics".
The idea isn't as unusual as it might seem. After all, any solar panel has to be waterproof, since it will be out in the rain. There are already several large floatovoltaic farms in Asia.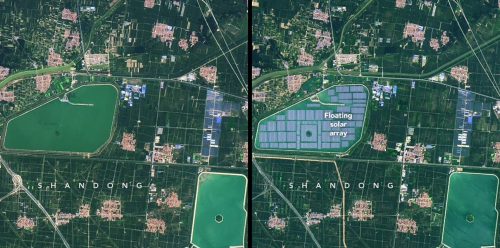 On land, solar panels are mounted on roofs or are held up by special frames. On the water, floatovoltaics are placed on a raft or floating platform attached to the bottom of a lake or reservoir. The raft usually has a space for workers to walk out and repair the panels, if needed. Floating solar panels cost about 25% more than those placed on land.
The researchers behind the new study looked at 114,555 reservoirs worldwide. They used computer programs to figure out how much electricity could be produced yearly by covering 30% of these reservoirs with floating solar panels.
The answer was surprisingly large – more than twice the amount of energy the United States generates in a year.* And 10 times as much energy as all the solar power currently being generated in the world. One of the authors of the paper described the results as "remarkable".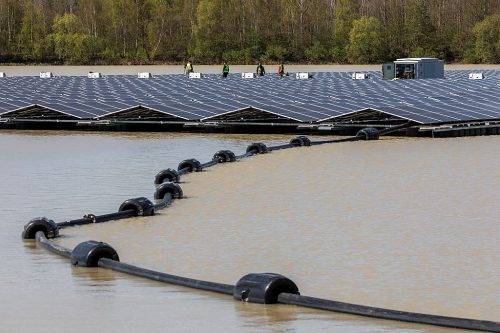 The scientists found that floatovoltaics would be especially useful when reservoirs were near smaller cities (50,000 people or less). The researchers say there are about 6,256 cities around the world where floating solar panels could provide all the electricity the cities need.
Floatovoltaics can also help save water by limiting evaporation from reservoirs. The scientists say that solar panels covering just 30% of the reservoirs' surfaces could save as much water as 300 million people would use in a year. As areas around the world struggle with droughts, many places are eager to save water in any way they can.
😕
This image has not been loaded because of your cookie choices. To view the content, you can accept 'Non-necessary' cookies.
There are several other reasons that make floatovoltaics a good idea. Photovoltaic panels work better when they're not extremely hot. The water helps cool the panels so that they create more energy.
Putting solar panels on water also means that there's no need to clear land for a solar farm. That's more and more important as countries work to fight climate change and protect natural spaces for wild animals.
Floatovoltaics aren't perfect. Covering too much of a reservoir with panels could affect the plants and animals in the water. The scientists say it will be important to study how floating panels will affect water in each reservoir. Focusing first on man-made reservoirs and canals will avoid some of those problems.
* The scientists say putting floatovoltaics on 30% of the world's reservoirs could produce 9,434 terawatt hours of power every year, and save 106 cubic kilometers of water a year.