Scientists have known for years that plants respond to sounds around them. For example, flowers make sweeter nectar to the sound of buzzing bees. But now scientists in Israel have shown that plants also seem to be doing some "talking".
Sounds and Frequency
Sound is made by vibrations. Things that vibrate slowly make low sounds. Rapid vibrations – like those from a whistle – create high sounds. Scientists use the word "frequency" to describe how rapidly or slowly something is vibrating. Some sounds are so high that humans can't hear them. These sounds are called "ultrasonic" sounds. Dogs and cats are known for being able to hear ultrasonic frequencies.
Professor Lilach Hadany and her team at Tel Aviv University set up microphones to record tomato and tobacco plants under different conditions. Their recordings revealed that the plants made ultrasonic sounds.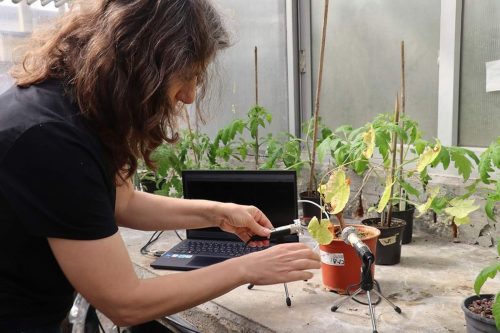 When the researchers adjusted their recordings so that humans could hear them, they heard sharp clicking noises, like the snapping sound of bubble wrap being popped.
As the scientists studied the sounds, they began to notice patterns. Plants clicked hardly at all when they had enough water. But as their soil got drier, they clicked more and more.
When scientists cut off a stem from the plants – as if an animal had just taken a bite – the plants also clicked more. But the clicking wasn't the same as when the plants needed water.
It's not clear how the plants make the sounds. One idea is that air bubbles form inside the plant's stem, and that these popping bubbles make a clicking sound. It's also not clear that the plants are making the sounds on purpose. Sometimes people's knees creak, too, but they're not doing it on purpose.
But the plants are definitely making noise, and creating much more noise when they're stressed (not enough water, stem cut off) than when they're not.
In fact, the researchers trained an Artificial Intelligence (AI) system to identify the different kinds of clicking sounds. The system was able to tell the difference between plants that needed water and plants with cuts about 70% of the time.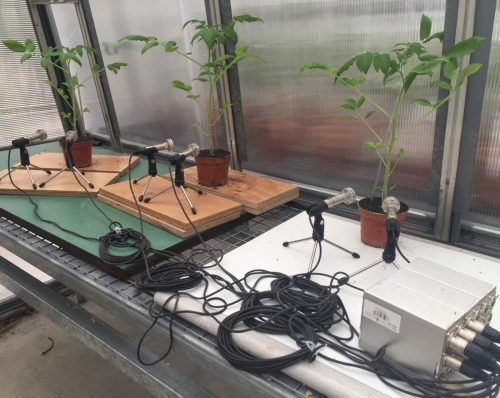 The result suggests that researchers may one day be able to use a plant's sounds to figure out when it is having trouble, and what trouble it is having. That could be very helpful to farmers.
The new discovery raises many more questions. One important question is: Do plants make sounds to communicate with each other?
Other research has shown that plants do seem to communicate in some ways. Plants being attacked by insects send chemicals into the air. Soon, nearby plants (that haven't been attacked yet) start to make other chemicals that don't taste good to insects. It's possible that the ultrasonic sounds could work in a similar way.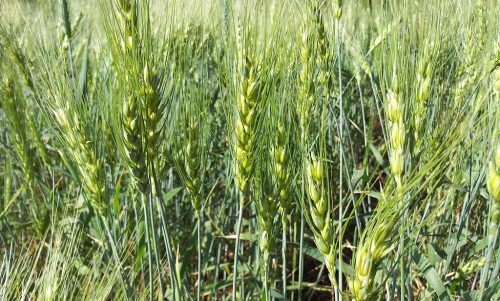 Another big question is: Is anything listening to the plants? Dr. Hadany points out that mice and moths, for example, depend on plants, and can hear ultrasonic frequencies. The clicks may tell these animals when a plant isn't healthy, so they can avoid it.
Dr. Hadany tells NFK that she and her team are "…planning to explore the effect of the sounds on other organisms, both animals and plants." They also hope to learn what else might cause the plants to make sounds, and whether AI can help identify those conditions, too.
The team's research has already changed our ideas about plants. As Dr. Hadany says, "Even in a quiet field, there are actually sounds that we don't hear, and those sounds carry information."
---
Did You Know…?
The researchers tested several other kinds of plants, including cactus plants and grape vines. These also made clicking sounds.