The US Environmental Protection Agency (EPA) has suggested new rules for limiting the amount of pollution that power plants running on coal and gas can release. The new rules would almost completely end carbon dioxide (CO2) emissions from these power plants by 2035.
The EPA is the US government agency responsible for protecting the environment. For over 100 years, there have been few limits on the amount of CO2 released by power plants. Now that's changing. Under the new rules, many large power plants will need to cut 90% of their CO2 by 2035.
US President Joe Biden has promised to cut US greenhouse gas emissions by about 50% by 2030. The government has announced many different efforts at reducing emissions. Cutting pollution from power plants will be an important part of those efforts. Power plants create 25% of CO2 emissions in the US. The only category that pollutes more is transportation.
😕
This image has not been loaded because of your cookie choices. To view the content, you can accept 'Non-necessary' cookies.
The EPA isn't telling companies how to reduce their pollution. It's letting them decide. Some companies may even decide to meet the rules by shutting down polluting plants.
But the EPA expects that most companies will use a method called "carbon capture and storage" (CCS). CCS aims to capture the CO2 that comes out of power plants, and store it – usually underground. In the past, this technology wasn't fully developed. Now, the EPA says CCS technology is good enough and cheap enough for power plant companies to use.
Not everyone agrees. Coal companies will be hit hardest under the new rules. The National Mining Association says CCS technology isn't ready yet.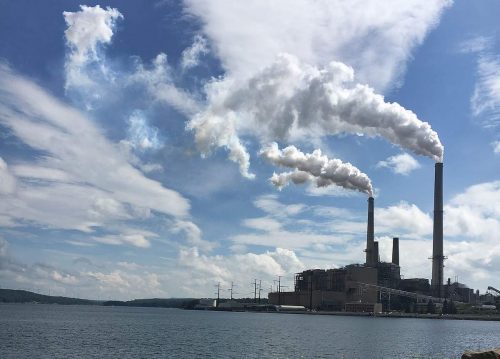 The EPA says that the new rules will prevent up to 617 million metric tons of CO2 from being released into the atmosphere. That's about as much pollution as you'd get by driving 137 million gas-powered cars for a year.
The EPA says the new rules will also reduce other kinds of harmful air pollution. The agency believes the rules will help in many other ways, such as helping people live longer, reducing hospital visits, and greatly helping people with breathing difficulties.
The new rules will also help the US meet its goals under the Paris Agreement – an international agreement aimed at limiting climate change.
The EPA's new rules are expected to become official next year. Most people think the rules will face strong opposition, and are likely to be challenged in court. Coal companies are expected to lead the fight.
😕
This image has not been loaded because of your cookie choices. To view the content, you can accept 'Non-necessary' cookies.
Similar EPA rules were approved in 2014 by Ex-President Barack Obama. But those rules were stopped by court cases. Even so, pollution from power plants dropped.
Even if the EPA's new rules get past challenges in court, they could still be changed by a future president. That's one reason the new rules are likely to be an important issue in the next election for president. The rules will probably be supported by most Democrats and opposed by most Republicans.
But at least one Democrat – Senator Joe Manchin – opposes the new rules. Mr. Manchin is from the coal-mining state of West Virginia. He has made millions from companies related to coal.