Alberta, Canada —(Map)
Canada's western provinces are being hit hard by wildfires. Alberta has been hit especially hard. The fires have forced thousands of people to leave their homes, and heavy smoke from the fires has spread far beyond the region.
Alberta has been fighting wildfires for several weeks. Alberta's government declared an emergency on May 6. Nearby British Columbia and Saskatchewan have also been seriously hit by wildfires.
So far, the wildfires in Alberta have burned 3,250 square miles (8,420 square kilometers) of land. In British Columbia, roughly 520 square miles (1,350 square kilometers) of land have been burned.
Around 2,500 fire fighters have been working to bring the blazes under control. Roughly 1,000 fire fighters have come in from other provinces across Canada to help out.
Currently, 77 wildfires are still burning in Alberta, and 23 of the fires are considered "out of control". That's better than last week. In British Columbia, 89 fires are burning, and 22 are out of control.
The wildfires have forced thousands of people from their homes. In Alberta, over 29,000 people have been forced to leave their homes. Around half of these people have now been allowed to return home. People have also been forced to evacuate in British Columbia and Saskatchewan.
The wildfires are making life difficult even for people who aren't directly threatened by the blazes. The fires have created so much smoke that it can be seen from space.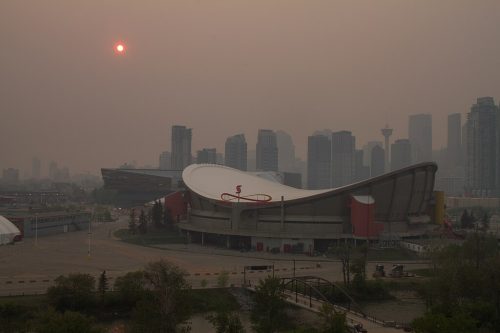 The air quality across northwest Canada has become extremely poor. In much of Alberta, the air quality is rated "10+". It's the worst rating possible, described as "Very High Risk".
The smoke has led many people to wear masks outside. In some areas, children have been kept inside during recess because of the smoke. The smoke is even affecting the air quality in several states in the United States.
The wildfires have also caused problems for a number of oil and gas companies in Canada. Alberta is famous for producing oil and gas. Many of the fires are burning in areas where there are wells and pipelines, and oil companies have been forced to shut many of these down.
Wildfires aren't unusual in western Canada. But normally the wildfire season begins later in the year. The early fires this year have been made much worse by extremely hot and dry weather.
For most of May, a high-pressure weather system has been bringing record temperatures to the area. Many locations in Alberta have never seen higher temperatures than they have this year. The high temperature in Alberta on Sunday was 91º Fahrenheit (F) (32.8º Celsius (C)).
It's too early to say how much of Canada's current wildfire problem is due to climate change. But scientists say that higher temperatures, droughts, and more large, powerful wildfires are expected as global warming continues.
Rain and cooling temperatures are predicted for parts of Alberta and British Columbia on Tuesday. Fire fighters are hoping the change in weather will give them a chance to get some of the most serious fires under control.