Key Largo, Florida —(Map)
Dr. Joseph Dituri, also known as "Dr. Deep Sea", has just finished an amazing adventure. For 100 days, the University of South Florida teacher lived in a small room underwater. He set a new world record, beating the old record of 73 days.
On March 1, Dr. Dituri, who's 55, began the project. His goal was to stay for 100 days at a special underwater hotel called Jules's Undersea Lodge. The hotel is 22 feet (6.7 meters) under the ocean surface in a protected area in Key Largo.
The farther you go below the ocean's surface, the greater the pressure. Dr. Dituri wanted to learn how this pressure would affect the human body over time. In his undersea room, Dr. Dituri was living with pressure that was about 66% greater than the pressure on the surface.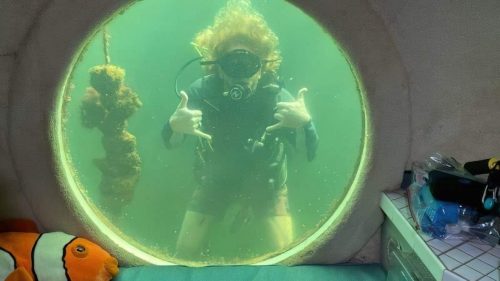 Dr. Dituri believes that high pressure could help people live longer and stay healthier as they get older. It could also help doctors treat different medical problems, including brain injuries. The room where Dr. Dituri stayed was only 100 square feet (9.3 square meters). But it had an area to sleep, and a small living room and kitchen.
While he was living underwater, Dr. Dituri stayed busy. He often exercised in the morning. He kept teaching his college classes, and he had online chats with over 5,500 students from 15 different countries. Dr. Dituri worked with other marine experts to figure out ways to protect and take care of the ocean.
The doctor had a number of visitors who dove down to spend a little time with him. He was also regularly checked out by a medical team. Dr. Dituri said what he missed the most when he was underwater was sunshine.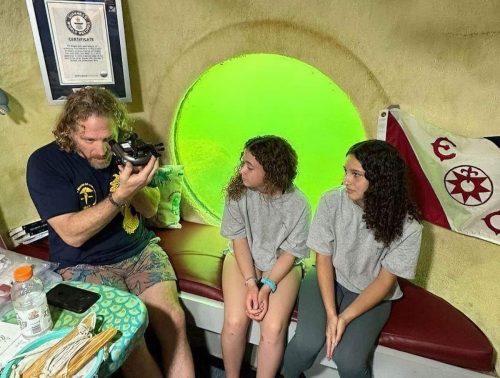 Last Friday, June 9, Dr. Dituri returned to the surface, where he was finally able to see the sun again. Many friends, family, and supporters were there to greet him and celebrate his success.
Dr. Dituri was smiling when he came back up. Doctors quickly checked him out to make sure he was okay. Then, Dr. Dituri spoke to the crowd about his 100 days underwater. "The human body has never been underwater that long," Dr. Dituri said. "This experience has changed me in an important way."
Actually, Dr. Dituri went through several big changes. For one thing, he became half an inch (1.3 centimeters) shorter during his time in the higher pressure undersea. He was also able to sleep much better. His health greatly improved in a couple of other ways, too.
😕
This image has not been loaded because of your cookie choices. To view the content, you can accept 'Non-necessary' cookies.
Dr. Dituri and his team of doctors plan to study the information they collected during the project. In November, Dr. Dituri will speak at an important medical meeting in Scotland about the discoveries the scientists made during the project.
Dr. Dituri says his favorite part of the project was talking with young people. "Who knows?" he said, "Maybe one day, one of them will come back and break the record we just set."
---
Did You Know…?
On May 13, Dr. Dituri officially set a new Guinness World Record for the longest time spent living underwater.
😕
This map has not been loaded because of your cookie choices. To view the content, you can accept 'Non-necessary' cookies.