Imagine being able to use energy from the sun all the time, even when it's night. That's the idea that scientists at Caltech (California Institute of Technology) are exploring. They're working on collecting sunlight in space and sending its energy to Earth.
On Earth, sunlight can be blocked by clouds. And of course, at night, there is no sunlight. But in space, the sun shines all the time. As a result, there's far more solar power in space than there is on Earth. The problem is figuring out a way to use it.
Caltech's scientists have created a special tool for this project. They call it MAPLE*. MAPLE and two other devices are part of a project that was sent into space in January, 2023.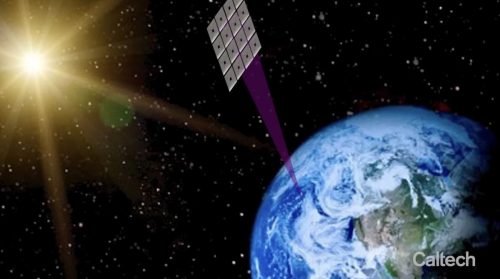 MAPLE's job is to test the idea of sending energy wirelessly from space to Earth. We're used to using wires to move electrical energy from one place to another. But sending energy without wires is a lot trickier.
The method used by Caltech's scientists depends on the way waves act when they meet. Imagine two waves coming together as they travel in the same direction. If the tops of the waves line up, they combine to make a bigger wave. But if the top of one wave lines up with the low point of the other, the waves cancel each other out.
The Caltech team has found a way to control the timing of lots of microwaves so that they can combine their power, and focus the energy in one direction. It's a little like using a magnifying glass to focus sunlight into a small, hot point of light.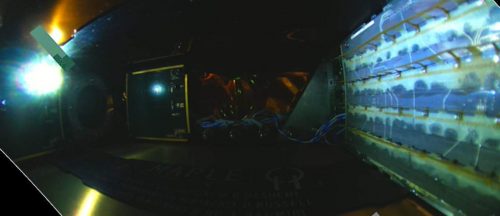 Using this system, the scientists can send the power to exactly where they want it, either in space or on Earth. At least that was the idea. But before the recent test of the MAPLE system, this had never actually been tried. "This is a first!" says Dr. Ali Hajimiri, one of the project's leaders.
To prove that the system could work, MAPLE sent energy to two devices just a foot (30 centimeters) away in space. This energy was then turned into electricity, which made two small lights light up.
Next, MAPLE beamed energy all the way down to a lab at Caltech. The scientists were able to detect the energy, proving that it's possible to send solar energy to Earth from space.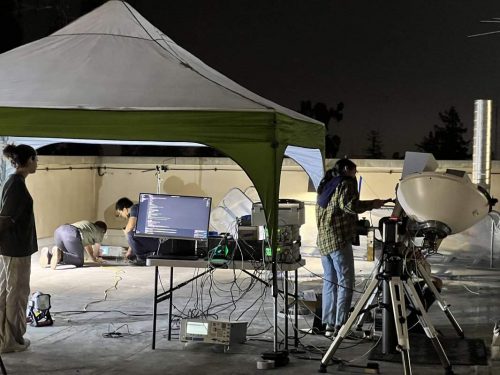 The experiment also showed that MAPLE worked well, even in the tough conditions of space, where temperatures can change greatly, and radiation from the sun is strong.
The Caltech scientists are now trying to find ways to improve MAPLE. In the future, they hope to launch many large devices. Each will have huge panels to collect solar energy, along with MAPLE devices to send the energy down to Earth wirelessly.
Dr. Hajimiri thinks that one day, the system could be extremely useful, bringing energy to places that need it, all over the world. He believes that in the future, we'll be able to "…send energy to remote regions and areas devastated [greatly damaged] by war or natural disaster."
* MAPLE stands for Microwave Array for Power-transfer Low-orbit Experiment.