San Francisco, California —(Map)
Recently, fans of self-driving cars have gotten some good news, followed by bad news. Two self-driving taxi companies were given permission to expand their work in San Francisco. But a string of accidents has led to new concerns about how safe the cars actually are.
Cruise and Waymo* are two companies that have been developing self-driving taxis, sometimes called "robotaxis" (robot + taxi). Both companies have been testing their cars in San Francisco for years. Until recently, the cars have had a human in the driver's seat, ready to take over if there was a problem.
But the newest self-driving cars don't have anyone in the driver's seat. They are programmed to do everything on their own, including obeying the rules of the road, following speed limits, and avoiding people and other cars.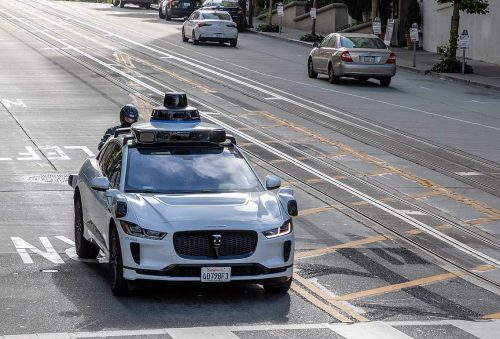 Until recently, the robotaxis could only drive in specific areas, at certain times. The companies were only allowed to charge passengers for some of the trips.
But in early August, Waymo and Cruise were given full permission to operate their robotaxis in San Francisco. The companies were allowed to run as many driverless cars as they wanted, 24 hours a day. And the companies weren't required to have safety drivers in their cars.
The move was a big step for self-driving cars, and many people were excited about the change. The new rules also allowed the companies to charge for every ride, which meant that the robotaxis could finally start to earn money.
But almost immediately, there were problems. A Cruise car crashed into a fire truck, sending a person to the hospital. Later, a Cruise car stopped working in the middle of an intersection, causing a traffic jam.
As a result, California told Cruise to take half of its robotaxis off the roads.
For many people, the problems with the self-driving taxis didn't come as a surprise. The chief of San Francisco's fire department says that since May of 2022, there have been over 60 cases where robotaxis interfered with firetrucks. Robotaxis have also blocked city buses and other emergency vehicles.
Many people believe that self-driving cars just aren't ready yet for the real world.
In one recent example, a self-driving car got stuck in wet cement because it didn't know that wet cement was different from a road. In another case, a robotaxi killed a dog. The self-driving system knew the dog was there, but didn't know how to avoid it.
One group that is upset about self-driving cars has found an unusual way to protest: putting traffic cones on the hoods of robotaxis. The cone confuses the car's driving system and leaves them unable to move.
In spite of the problems, both Waymo and Cruise are planning to expand their self-driving car service to other cities. Cruise has plans to bring their robotaxis to at least 15 cities. Waymo says its driverless system will soon be able to work "in any city, on any kind of vehicle".
Though the quality of self-driving cars is improving, it's likely to be a while before most people view them as safe.
---
Did You Know…?
Cruise's cars are allowed to travel at up to 35 mph (56 kph), while the top speed for Waymo is 65 mph (105 kph).
*Cruise is owned by General Motors. Waymo is owned by Alphabet, the same company that owns Google.