Katowice, Poland —(Map)
After two weeks of difficult talks, governments from around the world have agreed to a set of rules that will help the world make progress in dealing with climate change.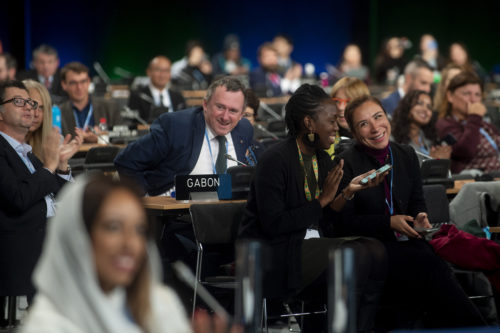 Climate Change
Climate change means the long-lasting rise in the world's temperature (global warming) and change in weather patterns, caused by human activity. One main cause of climate change is the burning of "fossil fuels" like coal, oil, and natural gas to make energy. These fuels give off pollution which makes climate change worse. These kinds of pollution are often called "greenhouse gases" or "carbon emissions".
Some effects of global warming include melting ice in the North and South poles, rising sea levels, and more extreme weather such as floods, hurricanes, heatwaves, and long dry periods that can lead to wildfires.
In 2015, the world's countries signed the "Paris Agreement" to work together to slow global warming. The Paris Agreement set goals for countries to pollute less by replacing fossil fuel energy with energy that doesn't pollute, such as solar, wind, and water power.
A recent report has said that the world must get global warming under control by 2030 or it will be too late.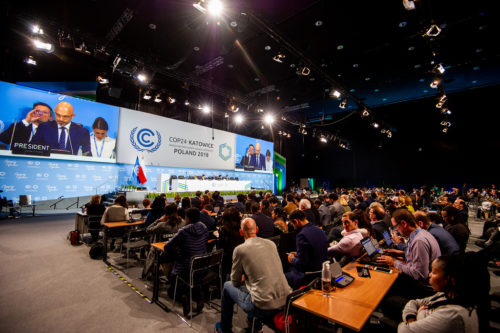 The two week meeting, called COP24, was meant as a follow-up to the 2015 Paris Agreement. As scientists learn more about climate change, it has become much clearer that action needs to be taken right away. The leader of the United Nations, António Guterres, opened the meeting on December 3, saying "We're running out of time."
The Paris Agreement set goals for countries to lower their carbon emissions. This meeting set rules for measuring and reporting progress on those goals. This will help make sure the Paris Agreement is being carried out.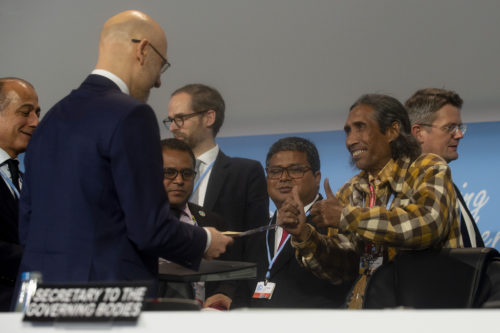 The group still had not reached an agreement by the time the meeting was meant to end. The diplomats worked an extra day and through the night to come up with the final 156-page agreement. The meeting showed that different groups had different ideas about dealing with climate change.
For example, some countries that make money by selling oil and coal, didn't seem very eager to fight climate change at all. The US, Russia, Saudi Arabia, and Kuwait worked to keep an important scientific paper about climate change from being accepted. US President Donald Trump even sent a group to give a speech in favor of coal. The speech was quickly interrupted by protesters.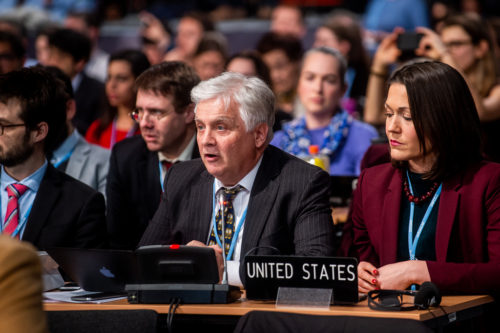 Rich and poor countries also had different ideas. In general, poor countries believe climate change has been caused by pollution from rich countries. The poorer countries want help with the costs of switching to clean energy and recovering after disasters caused by climate change. The new agreement says that rich countries must be clear about how they will help poor countries. So far, only Germany has said how much money it will give.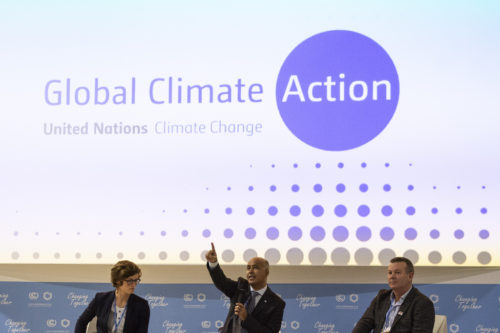 Many groups believe countries must cut carbon emissions even more than the Paris Agreement says in order to stop climate change. Island countries, for example, could be completely covered by rising seas if temperatures keep rising. These groups did not get what they wanted. Decisions about stronger goals were delayed until another meeting in 2020.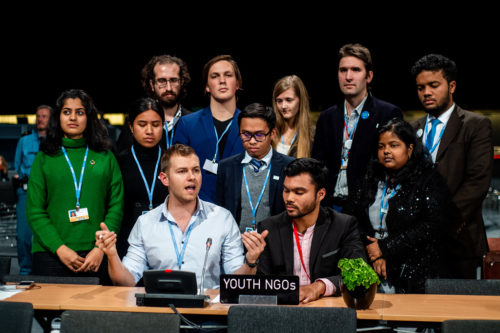 Greta Thunberg, the Swedish student famous for her climate protests, spoke at the meeting. She and many other young people are worried because climate change will affect them the most, even though they didn't cause it.
Even though not everyone got what they wanted, most people seemed pleased that the countries reached an agreement. "We will all have to give in order to gain," said Michal Kurtyka, the leader of COP24. He said the diplomats had "made a thousand little steps forward together."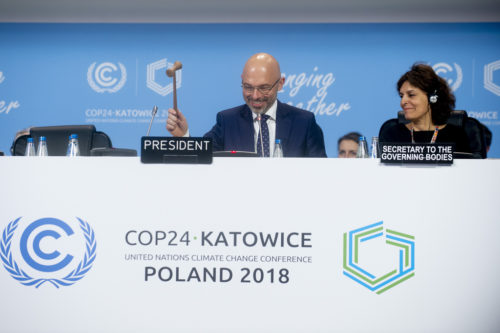 😕
This map has not been loaded because of your cookie choices. To view the content, you can accept 'Non-necessary' cookies.