Asian Countries Face Back-to-Back Typhoons
Japan is facing its second typhoon in a week as Typhoon Haishen batters the southern islands with strong winds and extremely heavy rain. Early on Sunday the typhoon slammed into Okinawa and southern Kyushu with winds as fast as 112 miles per hour (180 kilometers per hour).
Last week, Typhoon Maysak came through the East China Sea, hitting parts of Japan before moving on to South Korea and North Korea. The storm injured at least 18 people in Kyushu, and around 80,000 homes lost power.
As Maysak moved on to South Korea, it damaged over 800 buildings and forced 2,200 people from their homes. A nuclear power plant was shut down because of the storm, leaving 200,000 people without electricity. In North Korea, the heavy rainfall caused widespread flooding.
A ship with about 6,000 cattle (cows) and over 40 crew members got caught in Typhoon Maysak's rain and winds, causing the ship to sink. So far, only two people from the ship have been rescued.
Though Typhoon Haishen is showing some signs of weakening, it is on a similar path to Typhoon Maysak.
Remembering Black Panther Actor Chadwick Boseman
Chadwick Boseman has died at age 43, after four years of fighting colon cancer. Mr. Boseman was best known for playing the superhero Black Panther (T'Challa) in the movie Black Panther, and other Marvel movies.
Black Panther was the first movie to feature a mostly Black cast with an African superhero. Mr. Boseman was proud of his role in Black Panther, and said the character was very important to him.
Mr. Boseman also played several important African American figures, including major league baseball player Jackie Robinson, soul singer James Brown, and US Supreme Court Justice Thurgood Marshall.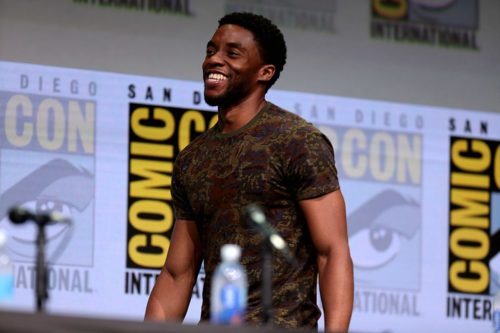 Mr. Boseman was known for being hard-working and dedicated. Offscreen, Mr. Boseman worked to support the Black Lives Matter movement and encourage equality. Mr. Boseman's life and career were a source of hope and inspiration for many people.
Though he was sick for years, Mr. Boseman kept his illness a secret, and continued to work. News of his death has shocked and saddened people around the world.
Magician David Blaine Flies Away Using 52 Balloons
David Blaine made history on Wednesday by flying over the Arizona desert with 52 helium balloons. "It's like magic, it feels like I'm floating in the air," Mr. Blaine said through a radio as he took off.
Of course, he was floating in the air. The colorful balloons took him over 4.7 miles (7.6 kilometers) into the sky. At that point in the flight, Mr. Blaine let go of the balloons and used a parachute to float back to the ground.
Mr. Blaine is known for performing risky acts. In the past, he has done things like trapping himself in a block of ice for 2 days or standing on a tall post for 35 hours.
Mr. Blaine trained for a year and a half to prepare for the act, making 500 jumps from an airplane, and getting a license as a hot air balloon pilot.
Over 770,000 viewers followed the event as it was streamed live over the internet, setting a new YouTube record.